By Larry Arreguin
DETROIT, MI, May 28, 2023: In the final game of a 4-game stand against their AL Central Rivals, the Tigers outlasted the White Sox defeating them 6-5 in the 10th inning. Late inning heroics, were in abundance as the home team seen a 4-1 lead vanish, only to come from behind to take 3 of 4 games.
Akil Baddoo (#60), started the scoring off by slamming a Dylan Cease (#84) 97 MPH four-seam fastball into the right field stands. The Grand Slam was his second ever and had the Tigers up 4-1.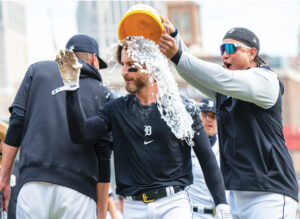 The White Sox battled back and scored 4 in the 7th and looked as if they were on their way to a split of the Series. In the 8th, they looked as if there were going to add to their lead when Jake Burger (#30) took Tyler Holton (#87) deep to center, only to be robbed of a home run by Riley Greene (#31).
In the 9th Greene, tripled to center and was batted in by Javier Baez (#28) tying the score at 5. Going into the 10th, Alex Lange (#55) was brought in to pitch for the Tigers and proceeded to strike out the first two batters he faced and then had Burger fly out to Left Field.
With Spencer Torkelson (#30) on second, Designated Hitter Jonathan Schoop (#7) hit a scarafice fly to center advancing the runner. This set up an opportunity for Eric Haase to drive in the winning run, which he did, giving the Tigers a 6-5 win and getting them 1 game closer to .500 (25-26).