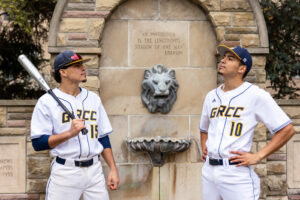 GRAND RAPIDS, Mich., May 25, 2023: A half century or so ago, American schools introduced a short-lived concept called "the new math." It didn't last.
But this baseball season at Grand Rapids Community College, new math often was necessary to calculate the offensive output of twins Fernando and Andres Rivera-Calderon. For instance, when the Raiders swept Muskegon Community College in a May doubleheader, the equation was 2 x 3 = 12.
As in two brothers, three grand slam home runs (two for Fernando and one for Andres) and 12 total runs batted in.
And while GRCC baseball records go back a long way, there's no entry for grand slams by twin brothers in a doubleheader. So, for now, it's safe to say the Rivera-Calderon twins own that category.
They also own a special place in GRCC coach Mike Eddington's heart after a 2023 season that saw the twins combine to hit .344 (86 hits in 250 at-bats) as GRCC went 35-14 overall and won an MCCAA Northern Conference Championship at 23-2 record and an MCCAA championship before falling in the regionals to two nationally ranked foes.
"They're hard-working kids who do well in the classroom," Eddington said. "I'm curious to follow them going forward and see how they do in baseball and in life. Really, it's pretty amazing to see what they had to overcome to where they are now. They're good people, and I will miss them."
Francisco and Andres came to the United States from Puerto Rico in 2014 when they were already 12 years old. Their stepdad had taken a position as a physician in Carson City, and the boys ended up at Greenville Middle School, knowing only the English they had gleaned in a month-long program in nearby Belding.
It wasn't much, they recalled recently. But they did speak the language of baseball, as their stepdad reminded them. "The only thing you have right now is your bat," Fernando remembered him telling them. "Let your bat do the job."
"We could play baseball," Andres said. "We started practicing when we were 3 and were on our first teams (in Puerto Rico) when we were 7. So, we had that."
Despite their acumen on the diamond, they weren't really recruited significantly coming out of Greenville High School. A senior season wiped out by the pandemic didn't help matters.
But Eddington, a former star at GRCC and Michigan State, was one of the coaches who reached out to the twins. Fernando came first, and, a year later, Andres joined him on campus after a year at Adrian College.
Last year, Fernando missed most of the season because of injury, so the 2023 campaign was the first full season the twins played together, and they made the most of it.
"Coach had faith and trust in us, and we were able to play together, which was amazing," Fernando said.
They also were amazed by their GRCC academic experience, they said. Both graduated last month with associate degrees – Fernando in Sports Management and Andres in Business Administration – and both are headed in the fall to New College of Florida to be closer to their parents (who now live on Florida's east coast) and to be able to play baseball in warmer weather again.
"We never really got used to playing baseball in the cold," Andres said with a laugh. "We're thankful to have that chance again."
Both are also thankful to the many people who guided them at GRCC. They mentioned not just GRCC baseball coaches, including Eddington, but also numerous professors and staff members who went out of their way to help the recent immigrants not just survive but thrive.
Said Fernando: "We can't name them all because we would forget someone, but the people we met along the way at the college, we owe them a big debt."
Still, they said, their love for the college probably is surpassed by their love for baseball.
"Baseball for me, of course, is everything," Fernando said. "It's like therapy: Once I gain that field, everything else I forget."
And Andres feels the same way.
"Everybody in life will go through a tough time," he said. "But baseball, I feel it prepares you for that. It teaches you that you have to deal with failure. In baseball, when you hit, you fail seven out of 10 times. So, you have to deal with that."
This season, the failures were fewer and the successes more frequent, both as individuals and as a team.
GRCC's season included an MCCAA Northern Conference Championship with a 23-2 record, an MCCAA championship and a 35-14 overall record.
Fernando led the team in hits, runs, doubles, home runs, total bases, slugging percentage and RBI at the plate, plus stolen bases for good measure. Andres was close behind in several categories.
But neither player focused on the individual numbers this season.
"We definitely feel like we improved as individuals because of GRCC and the coaches," Andres said. "We had great practices, got a lot of swings in. But we grew as people too, as students, and it was great to be part of such a winning program at GRCC and to be there together as brothers."
Indeed, for Fernando and Andres Rivera-Calderon, their winning formula this season was easy: It simply equaled 1 + 1 + GRCC.