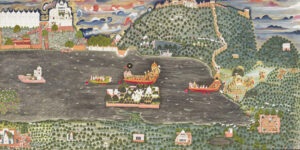 CLEVELAND, June 8, 2023: During the 1700s, Udaipur, a royal capital in northwest India, became a destination for the entertainment of political leaders, where its rulers built diplomatic relationships and demonstrated the righteous authority of the court.
The kings commissioned a new kind of painting: large-scale depictions of actual events that convey the mood (bhava) of the city's palaces, lakes, temples, and mountains. Fifty dazzling works on paper and cloth—many on public view for the first time and more than half from the City Palace Museum, Udaipur—invite us to experience this endlessly fascinating kingdom in the Cleveland Museum of Art's newest exhibition, A Splendid Land: Paintings from Royal Udaipur. 
On view June 11 through September 10, 2023, in the Kelvin and Eleanor Smith Foundation Gallery, the exhibition reveals how artists elicited emotions, depicted scenes through time, celebrated water resources, and fostered personal bonds over some two hundred years in the rapidly changing political and cultural landscapes of early modern South Asia.
"This spectacular show belies the very notion of the 'Indian miniature' as an art form that is small in scale," said CMA Director and President William M. Griswold. "Many of the paintings on view are astonishingly large, vividly evoking the magnificent palaces and vast landscapes that they depict."
Emphasizing lived experience, A Splendid Land: Paintings from Royal Udaipur also explores how painters creatively manipulated architectural space, mapped terrains, and triggered memories to foster political and personal attachments to the land. The visitor travels from island pleasure palaces to the sprawling City Palace, into the city streets, and to the hunting grounds beyond the city. Audiences will experience the mood of the monsoons and witness how the rulers, through their piety, brought heaven to earth in Udaipur.
This exhibition has been cocurated by Debra Diamond, the Elizabeth Moynihan Curator for South Asian and Southeast Asian Art at the Smithsonian's National Museum of Asian Art, and Dipti Khera, associate professor, Department of Art History and Institute of Fine Arts, New York University.