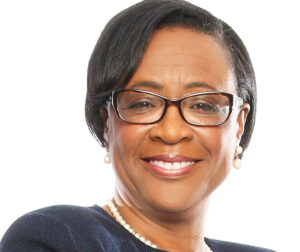 Toledo, Ohio, June 8, 2023: The 2023 Women's Leadership Summit announced this year's event theme, "Positioning Yourself with Purpose". Celebrating its seventh year, the event will feature dynamic Cynthia "Cynt" Marshall, CEO of the Dallas Mavericks, President and CEO of Marshalling Resources Consulting, and a retired AT&T Senior Vice President – Human Resources & Chief Diversity Officer, as the keynote speaker. Angela Mingo, Vice President of Corporate Affairs for Nationwide Children's Hospital, and Mary Sabin, Vice President of Institutional Advancement at Lourdes University, will be part of the Women's Leadership Summit panel discussion.
This year's event will be held on June 28, 2023, at the Glass City Center. Presenters are focused on helping women find and fulfill their purpose so they can walk their unique path and make better choices. Science confirms that individuals with a strong sense of purpose tend to live longer, have healthier hearts and are more psychologically resilient.
"Now more than ever, women are juggling careers, families and commitments and it is easy to get lost and distracted. As strong, resilient women, we can focus on positioning ourselves with purpose to thrive in our personal and professional lives," said Meg Ressner, Women's Leadership Summit Event Co-Chair.
Cynt Marshall, recognized for her visionary leadership and ability to get things done, was hired as the first Black female CEO in the history of the National Basketball Association in March 2018. Her vision was for the Mavericks to become the NBA standard for diversity and inclusion. She helped evolve the company culture in her first 100 days.
Before joining the Mavs, Cynt founded Marshalling Resources, a consulting firm specializing in Leadership, Diversity and Inclusion, Culture Transformation, and overall optimization of people resources.
Cynt had a rewarding 36-year career at AT&T, serving most recently as Senior Vice President – Human Resources & Chief Diversity Officer. There, she was responsible for identifying and developing leaders, aligning employees with the company's vision and priorities, overseeing major business unit HR support, performance development, employee engagement, skills transformation initiatives, EEO and Affirmative Action. Cynt led the team that created a world class Diversity and Inclusion culture.
In 2022, Cynt authored her first book, You've Been Chosen: Thriving Through the Unexpected.
In March 2021, Forbes named Cynt one of 15 of the world's most inspiring female leaders. She has won many awards throughout her storied career, including the 2020 Girl Scouts of America Lifetime Achievement award and was one of Adweek's 30 Most Powerful Women in Sports.
This year, the Dana Open will support 16 children's charities.
"Year over year, this event continues to support incredible initiatives in our community. We are thrilled to utilize proceeds from this beloved event to benefit the communities these organizations serve," said Judd Silverman, Tournament Director for the Dana Open.
The Women's Leadership Summit offers a keynote speaker and panel discussion as an opportunity for women throughout our region to connect and focus energy on personal development and growth. Toledo's own Chrys Peterson will serve as the event emcee. Individual tickets for the program only are still available for $50 or tables of ten can be sponsored for $5,000 which includes the luncheon and full day of programming. For more information or to purchase tickets, please call Savannah Wagener at 419-531-3277 or email at swagener@toledoclassic.com
ABOUT THE DANA OPEN
The Dana Open is one of the longest running events on the LPGA Tour. The Dana Open was founded in 1984 and has been played yearly, except in 1986 and 2011, in Sylvania, Ohio. Over the past 39 years, the tournament has raised $13.7 million for more than 215 local children's charities. This year the event will be played July 10 – July 16 at Highland Meadows Golf Club. For more information, visit www.danaopen.com.