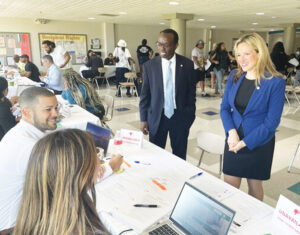 DETROIT, Mich.: The Michigan Department of State joined partners in Detroit on Wednesday, June 21, for a Road to Restoration driver's license clinic hosted by Goodwill Industries of Greater Detroit. More than 900 area residents looking to regain their driving privileges attended the clinic to understand their pathway to getting back behind the wheel. Visitors had the opportunity to walk out with their driver's license or a permit, with the vast majority clearing fines and accessing Secretary of State office services on site to bring them closer to restoration.
"More than 900 Detroit residents came to our Road to Restoration clinic, the largest turnout we've seen since the program began last year," said Secretary of State Jocelyn Benson, who visited the clinic Wednesday. "It's clear there is a great need for these services in Detroit, and how indispensable a driver's license is for most Michiganders. With future clinics scheduled in the city and throughout the state, we're committed to meeting people where they are and bringing this important resource directly to as many communities as we can."
"The Road to Restoration program aligns with Goodwill of Greater Detroit's mission to build pathways to independence through personal development and the power of work," said Dan Varner, president & CEO, Goodwill Industries of Greater Detroit. "Lack of transportation is the number one barrier to employment. This program helps to eliminate that barrier and open doors to opportunity. It's inspiring to see government, nonprofits, and businesses come together to support metro Detroiters in such a meaningful way and we're proud to host our partners in this effort."
The Road to Restoration program was launched after new state laws lifted license suspensions for drivers who failed to pay tickets or court fines or failed to appear in court for certain non-moving and other violations in late 2021. Many must take additional measures to have their licenses restored.
At each Road to Restoration clinic, eligible Michiganders meet with expert staff and volunteers to determine what steps they must take to regain their privileges. The clinics are also equipped to clear outstanding fines and fees, provide immediate access to driving records, and administer other services, including written driving tests and vision screenings.
Since its launch in 2022, the Road to Restoration program has assisted more than 7,000 Michiganders at 26 clinics in 14 cities including Detroit, Taylor, Flint, Saginaw, Lansing, Benton Harbor, Kalamazoo, Grand Rapids, Traverse City, and Alpena. Road to Restoration clinics will also serve the Upper Peninsula for the first time this summer with stops planned for Marquette, Escanaba, and Sault Ste. Marie in July.
The clinics are a successful public-private partnership that includes the Department of Attorney General, DTE Energy, Miller Canfield, Detroit Justice Center, the Michigan Association of United Ways, and Michigan 2-1-1. Wednesday's clinic in Detroit was supported by local partners Goodwill Industries of Greater Detroit, Delta Sigma Theta Sorority, Inc. (Detroit Alumnae Chapter), and LinkedIn Detroit office.
The next Road to Restoration clinic will be held July 10 at Northern Michigan University in Marquette. The program will return to Detroit on Oct. 4 at a clinic hosted by LA SED Senior and Youth Center.
Residents can learn more and register for an upcoming clinic at Michigan.gov/RoadtoRestoration.