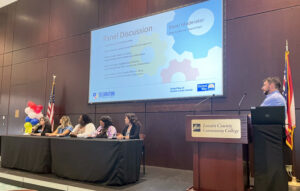 Elyria, OH, June 22, 2023: Over 100 supporters and partners of United Way of Greater Lorain County gathered morning to celebrate a year of progress towards achieving United Way's goals for the community in health, education, and financial stability.
The gathering was United Way of Greater Lorain County's Celebration of Community Impact at Lorain County Community College's Spitzer Conference Center and included a report from United Way of Greater Lorain County president and CEO Ryan Aroney.
"We're proud to be at the center of the Collective Impact movement in Lorain County – providing high-quality programming, increasing wrap-around services, and changing systems," said Aroney, "A unique component of our local United Way is that we provide direct services. For years, United Way was known only as a community fundraiser. Donations remain critical to support our mission, but they now directly fuel the work of United Way. This gives us boots on the ground and informs the higher-level strategic work we continue to lead through Collective Impact."
Tim Alcorn the radio voice of the Cleveland Cavaliers, served as the master of ceremonies for the celebration. Throughout the event, several speakers shared stories on how the work of United Way is making an impact in Lorain County.
A panel discussion highlighted the pressing concerns faced by seniors and low-income working families, otherwise known as ALICE (Asset Limited, Income Constrained, Employed). Nearly 125,000 households qualify as ALICE which is 38% of the county's population. The panel explored the immediate needs and barriers to economic stability, emphasizing the importance of advocacy, public policy support, and long-term solutions.
Rebekah Johnson, a lifelong Oberlin resident and mother of five, praised OberlinKids for benefiting her family's life with education and support. Despite financial struggles and challenges in finding affordable housing, OberlinKids provided scholarships for her son's preschool program and created employment opportunities for Johnson.
"OberlinKids has been a lifeline for our family, offering the support and resources we needed. It has empowered us to ensure our children have a bright future," said Johnson.
Over the past year, United Way has invested over 2.3 million dollars into Greater Lorain County.
"Our work is truly life-changing for the people we serve," said Aroney, "It is through the unwavering support, dedication, and involvement of our community that we have been able to make a direct impact on the lives of our fellow residents throughout the county. Together, we have extended a helping hand to those facing adversity, offered hope to those who had lost it, and created opportunities for individuals to thrive and succeed."
More information on United Way of Greater Lorain County can be found at uwloraincounty.org or by calling 440-277-6530.