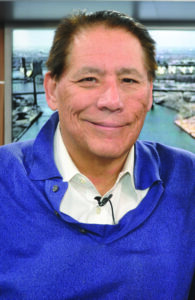 By La Prensa Staff
José Luna, who spent a career guiding and advocating for Latino students at Toledo Public Schools (TPS), passed away July 6, 2023 at the age of 68. Diabetes and related kidney disease had forced Luna to retire two years ago after 29 years as Latino outreach coordinator at TPS, where he mentored thousands of Latino students.
The tributes to Luna's memory poured onto social media shortly after former students and colleagues learned of his untimely passing. Many shared fond recollections of how Luna impacted their lives while attending a TPS high school.
Toledo City Council member Theresa Morris called Luna "a giant."
"When I was growing up, there weren't teachers that looked like me, there weren't mentors to help guide me," she wrote on Facebook. "I'm so thankful he helped open doors and supported the wonderful things that happen with public education."
José Rosales, TPS career development coordinator, recalled meeting Luna as a troubled junior high school student and the connection they made with a shared first name. The two worked together professionally, first at the University of Toledo on the Latino Youth Summit, and in later years at TPS.
"He instantly reached out to guide and mentor me. He made everything make sense," Rosales wrote on Facebook. "I was blessed to see his entire career with TPS as he was, and will always be the OUTREACH MAN."
"He helped me out so much as a teenager," Francisco Aguilar Moraga wrote on Facebook. "I came from Florida, and he managed to reach out to me and made me feel welcome and loved even though I was not Chicano. He made me feel special event though I was not from Toledo."
"Mr. José Luna was a one-of-a-kind person who always gave and didn't expect anything in return," recalled Melinda Sánchez on Facebook. "His love and dedication to the youth was above and beyond 100%."
Luna became well-known for organizing field trips, taking vanloads and busloads of Latino kids to see TPS career tech prep programs, colleges, and places of work like the GM Design Center.
Luna changed dozens of lives along the way. Some of his favorite success stories include students who reached out to him later in their lives to tell him what an influence he had on them.
One of those stories involved Deputy Chief Daniel Brown-Martínez, who has served 20-plus years with the Toledo Fire Dept., and now leads the fire cadet recruitment team.
"I kind of hassled him until he went to a summer program in Findlay and he talked his brother and sister into going, too," recalled Luna in a 2021 LaPrensa interview. "He told me that completely opened their eyes. That's the thing I'm proudest about: opening the eyes of kids to possibilities."
Longtime friend of Luna, Ramón Pérez recalls how they met,   "I first met José in Spring of 1979 as an entering freshmen at BGSU…later that year José, Carlos Flores and I shared a house together off campus and that's when we became familia. José helped teach me how to cook some good raza food, reclaim my identity learn about my indigenous chicano background, how to throw frisbee, play disc golf, renewed appreciation for riding bicycle, exposed me to all kinds of US and international musicians, he was an amazing storyteller, published bilingual children books, was an excellent advocate and trailblazer to push our chavalitos and chavalitas to graduate from the Toledo Public Schools and beyond, played in a band/congas, wrote songs, even dedicated one to me, we drove together one summer break to your home town Lubbock, TX, we dug a pit in the back yard and cooked a cabeza/delicioso, we could chew the menudo for hours, endless life experiences…and thank Maria for caring for you and giving you the best quality of life until the end…but never forgotten…cuidate primo!"
Rico Neller, editor of La Prensa, said that he had tremendous discussions with him on history, education, Tejano music, the decline of affirmative action, and racism.
Luna's legacy lives on at one TPS school. Escuela Smart bilingual academy started the Luna Award in his honor last year, now presented annually to a sixth-grade student who exemplifies some of Luna's characteristics such as leadership, kindness and service to others, according to a Facebook post. The school presented the award to Luna last year and honored its first student in May.
Luna has won several awards over the years for his dedicated professional service at TPS and groundbreaking community work, including as a founding member of the annual Latino Youth Summit held at the University of Toledo, where 600 middle school and high school students explore college and possible careers. He earned a Diamante Award for education in 1998.
Adelante presented him with the César Chávez Humanitarian Award in 2012. Luna received a Distinguished Hispanic Ohioan (DHO) award from the Ohio Commission on Hispanic/Latino Affairs in 2019.
A self-described "late bloomer," Luna started his own career working at the Defiance GM Foundry in the 1970s. Not feeling fulfilled there, he headed to Bowling Green State University, determined to become a history teacher. But there were no jobs available once he graduated, so he took the job as Latino outreach coordinator.
Luna grew up in a small West Texas town [Lubbock area], one of six children raised by a single mother. His family later relocated to Northwest Ohio and he graduated from Patrick Henry High School. He graduated from BGSU in 1991 with an education degree and a master's in school counseling in 2002 from Siena Heights University.
Luna is survived by his wife of 20 years Maria also worked for TPS, with 36 years of service time as a teacher's aide and her most current role running a distance learning lab at Bowsher High School. The couple had a small publishing firm, which they've used to publish several books they've written. The latest is a bilingual children's book If a Little Girl Was President.