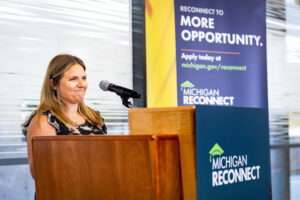 GRAND RAPIDS, Mich., July 12, 2023:  People aged 25 and older can get help starting or restarting their education tuition-free at Grand Rapids Community College's special Michigan Reconnect Night.
The event, planned for 3 to 6 p.m. on Wednesday, July 19, will include presentations and specialists ready to answer questions about applying, registering for classes, completing financial aid forms and other aspects of attending college.
The event will be located in GRCC's Raleigh J. Finkelstein Hall, 143 Bostwick Ave. NE, on the Main Campus in Grand Rapids.
Michigan Reconnect is the State of Michigan scholarship program that covers the cost of in-district tuition for residents age 25 and older who do not have a college degree. Students can earn credits for degrees or to transfer, or can take career-focused certificate classes.
"Michigan Reconnect can help so many people gain a quality education to advance in their careers," said Lori Cook, GRCC's associate dean of Access and First-Year Success. "Reconnect Night is a perfect opportunity for people to ask questions, and let our specialists walk them through the process.
Potential students at the event can get assistance completing the Free Application for Federal Student Aid, known as FAFSA, which is required to apply for the scholarship. Details about eligibility are at grcc.edu/reconnect.
Students can also learn how they can schedule classes around their home and work responsibilities, and take classes in-person and online.
Michigan Reconnect is part of Gov. Whitmer's Sixty by 30 goal, hoping to have at least 60 percent of the state's adults have a college degree or career certificate by 2030.
GRCC has been one of the state's leaders in students using the scholarship program. In the Winter 2023 semester, 2,584 students were accepted to GRCC through Reconnect, and 1,141 were enrolled for the winter semester. Others can start in the fall.
Those students include Morgan Brink, who said she struggled in high school but used the scholarship to return to school at 32. Now she's an honor student taking classes while raising two children and preparing to own her own business.
Stories about Brink and other Reconnect students are at grcc.edu/reconnect.