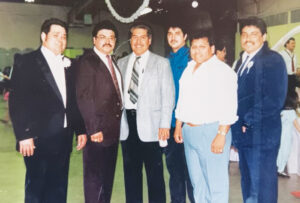 By La Prensa Staff
TOLEDO, July 31, 2023: The annual SS. Peter and Paul Church Festival serves as its own reunion of sorts for a lot of Latino families every summer—but this year's version will also be a radio reunion for hosts of a local Sunday morning Tejano radio show from the 1990s.
Celso Rodríguez became the driving force behind the show when it started in 1989 on WRED, 95.7FM, a locally owned radio station where he brokered six hours of airtime from 6 a.m. to noon, which quickly expanded to late hours over the weekend.
Station owner Buddy Carr, a former DJ himself, agreed to support the format and his first on-air recruit became Israel Zamarippa.
"Then it became a matter of recruiting some talent besides Israel and me," recalled Rodríguez, a Uvalde, Texas native who now resides in San Antonio but is visiting Toledo this summer. "Little by little, it started expanding."
Freddy Gutiérrez, Juan "Midnight Express" Sánchez, Lupe "the Doc" Moreno, Joe Muñoz, and Lulu Perales all joined the effort in the ensuing years, each fulfilling a role either on the air or behind the scenes. The Sunday morning Tejano shows continued until 1996, when Carr sold the station to an ownership group.
"Like the song, those were the days, man. We had very memorable times, shared together something no one will ever take away," Sánchez wrote on Facebook, once word of the reunion started to spread among the former colleagues on social media. Sánchez now lives in Florida.
Moreno has been a singer with the Tejano Sound Band for more than two decades now. The band is performing at the SS Peter and Paulfestival, which adds one more person to the radio reunion. The only two missing will be Sánchez and Zamarippa, who now lives in Dallas.
"Circumstances being what they are, it's bringing us together and we're all going to be there, so we'll get together, socialize, and reminisce," said Rodríguez. "The old gang is going to get back together. A lot of people still remember it and talk about it."
One of the reasons for the show's popularity is the fact it was defined as community radio. On-air hosts would take birthday and other song dedications, listener requests, and interacted with the audience when they called the station.
"It (the show) developed organically. It wasn't organized, it wasn't planned. It's just something that happened," Rodríguez said. "The people that were working the station and helping out the program were all Tejano music lovers. I guess that came across to the audience as well."
For the uninitiated, Tejano music relies heavily on the accordion and bajo sexto guitar, with influences from other genres of music, including rock, blues, country, big band music, and more.
Rodríguez acknowledged that there were other weekly radio programs in Northwest Ohio at the time, including two on WFOB in Fostoria, one hosted for a long time by Sylvester Durán. But those were only on the air for an hour or two at a time. Zamarippa and Gutiérrez each worked at WBGSU as well, but that was a low-power radio station with limited reach during that time.
"One of the reasons I started it was I was a promoter trying to bring in (Tejano) bands out of Texas," explained Rodríguez. "How do you promote the bands? If you don't have a medium to get the word out, that was one of the reasons to start it."
The show's announcers never got paid for their effort. In fact, they sold advertising in their spare time to offset the cost of the airtime, sometimes paying out of their own pockets to keep it going.
"I was one of its early supporters and advertisers. Loved the excellent format," said Rico Neller, editor of La Prensa.
"We never made any money. Sometimes we had more advertising at times than others, but nobody ever got paid," said Rodríguez. "Our love of Tejano music is really what made us do what we did."
Plenty of Tejano bands will be playing at the annual SS. Peter and Paul Church Festival, which runs August 4-6, outside the church, 738 St. Clair St., Toledo. There will be inflatables, games, authentic food, merchandise vendors, and more during a street vendor format. Admission is $5 per person Friday and Sunday and $10 on Saturday. Children 12 and under get in free. The festival runs 5 p.m. to midnight Friday, 1 p.m. to midnight Saturday, and 2 to 11 p.m. Sunday.