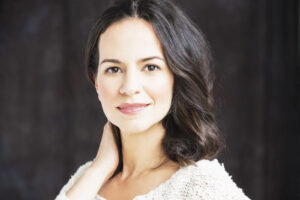 Mandy Gonzalez, is every Abuela's Granddaughter
By Larry Arreguin
EAST LANSING, MICHIGAN – Growing up in Santa Clarita, California, Mandy Gonzalez was bound for success. Born to a Mexican father and a Jewish mother, self-determination was embedded and her Abuela made sure to not let her talent go wasted.  Mandy honors her in the children's book she wrote –  Fearless.  A story about a young Latina thespian, that has to overcome obstacles to help save a theatre.  "My Abuela, was always working, making food for those in the fields and others," and telling me that "you can be who you are."
Listening to those that she admired, has become a way to Stardom that has propelled Mandy. While in High School, a vocal teacher encouraged her to apply to a Broadway Camp in Florida, to pursue her dreams.  After auditioning and earning a scholarship, and hearing what Gregory Hines would share to the attendees, she was convinced that she too could make it on Broadway.
After a year at the California Institute of Arts, she made her way to New York and in 2001 received an Obie Award for her performance in Eli's Comin'.  That year she also made her debut on Broadway and in Aida. Since, she has been in several plays including In the Heights, Wicked and Hamilton.  "I absolutely love to play, sing and write," shared the award-winning actress.
The actress has not only appeared on Broadway, but she is actively working in film, television and has recorded her first solo album Fearless.  When asked where she sees herself in 5 years, she responded by saying "producing and playing a backstage roll." Perhaps a Grammy, Emmy or Oscar is on the horizon, for a humble lady who once was asked to change her "last name to Carr," to land better roles.
Mandy Gonzalez will be performing at the Wharton Center in East Lansing, on September 20th at 7:30 pm.  For tickets and more information visit www.whartoncenter.com/events/details/mandy-gonzalez-fearless