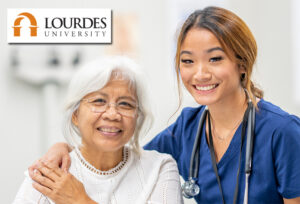 SYLVANIA, OH, August 30, 2023: Lourdes University and Lourdes University College of Nursing has announced the National Council Licensure Examination (NCLEX) first-time pass rate for the May 2023 graduates was 100%.
The NCLEX is a standardized exam by the National Council of State Boards of Nursing, evaluating nursing graduates' readiness to practice. Passing indicates meeting the safe and effective nursing practice standard at entry level and testing critical-thinking ability in practical nursing scenarios.
Dr. Christina Silka, Dean of Lourdes University College of Nursing, explains "This passage rate showcases the quality and strength of our College of Nursing program and the dedication of its nursing faculty and students. More importantly, this signifies these graduates have been fully prepared to enter the profession of nursing and assist with reducing the current nursing shortage our nation is experiencing."
Dr. Silka is confident Lourdes nurses are well-equipped to handle the stressors of a nursing career, while also exercising empathy and providing excellent care. The Lourdes University College of Nursing is far from the only one making that claim: clinical locations wholeheartedly agree.
"I continuously receive positive feedback about our nursing students and nursing graduates from our clinical affiliates in which they work with regard to the quality of their preparation and practice as nurses," Dr. Silka continues.
Dr. Silka is happy to celebrate not only the tangible success of the 2023 nursing class and its exceptional achievement, but also the noticeable shared character qualities Lourdes nursing students possess. "Lourdes nursing students are rich in virtue and values."