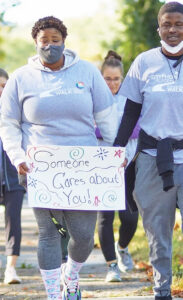 KALAMAZOO, MI, August 28, 2023: September is National Suicide Prevention Month. As a preventable cause of death, suicide is one of the biggest public health issues we face today. Suicide is the 2nd leading cause of death for Americans ages 10-34, and the 11th overall leading cause of death.
Resilience and recovery are possible, and prevention works. There are resources available to help those in crisis find the support they need. Gryphon Place, a local nonprofit, has been helping those in conflict and crisis since 1970 and is nationally accredited and a local leader in suicide prevention services. During September, Gryphon Place is offering several opportunities to support and educate the community on suicide prevention. The events include:
all month: round-up your purchase at Harding's Market
Sept 15-17: book fair at This is a bookstore & Bookbug
Sept 17-30: Pampered Chef Fundraiser
Sept 23: Suicide Prevention Walk
Sept 26: safeTALK Suicide Prevention Training
Sept 28: QPR Suicide Prevention Training
Suicide is preventable, and knowing the warning signs and resources to help someone in crisis can save a life.
Some warning signs from the Suicide Prevention Resource Center include:
Talking about death or dying
Looking for ways to kill themselves
Talking about feeling hopeless or having no purpose
Talking about being a burden to others
Increased use of drugs or alcohol
Displaying extreme mood swings
Some ways you can help someone in crisis:
Listen to what the person is saying, be sympathetic and nonjudgmental
Ask if they have had thoughts of suicide and take the person seriously
Do not leave the person alone
Remove any firearms, alcohol, drugs, or sharp objects that could be used in a suicide attempt
If a suicide attempt seems imminent, call 9-8-8
In need of immediate help or resources?
Dial 2-1-1 for access to local mental health services and resources
Call 9-8-8 to talk to a crisis worker
Visit gryphon.org for resources and more information
Registration and details on all events can be found on Gryphon Place's website at www.gryphon.org/event. Gryphon Place provides suicide prevention, intervention, and postvention services. Program information is also available at www.gryphon.org.
For immediate emotional support and crisis intervention, dial the 24/7 Suicide and Crisis Lifeline, 9-8-8. Save this number, you might save a life.
Gryphon Place helps people navigate conflict and crisis, foster resiliency, restore community, and support healing. Our goal is to be a trusted ally when addressing life's challenges.
Media resources for covering suicide in the news can be found here: http://reportingonsuicide.org/
Questions or requests may be directed to Sarah Mead, Director of Marketing & Advancement, at smead@gryphon.org.