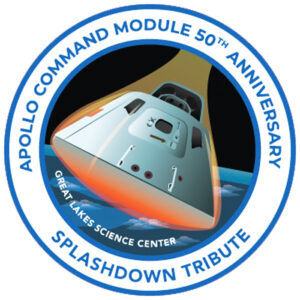 CLEVELAND, September 8, 2023: Great Lakes Science Center is hosting a 50th anniversary Splashdown Celebration in honor of the Apollo Command Module on display in the NASA Glenn Visitor Center. The celebration runs from 10 a.m. to 5 p.m. on Saturday, September 23, featuring free general admission for all guests and a visit from Jack R. Lousma, one of the astronauts who flew on the command module's mission!
Retired astronaut and Marine Corps pilot Col. Jack R. Lousma was the pilot on board the Apollo Command Module when it docked with the Skylab space station in the summer of 1973. Guests can hear him recount some of his experiences, including his splashdown in the capsule on September 25, 1973, during a Capsule Chat at 11 a.m. on Saturday, September 23 at the Science Center. Lousma will also be greeting guests during a meet and greet session at 1 p.m.
Guests can take advantage of free general admission to the Science Center all day on Saturday, September 23 in honor of the event.
Skylab helped pave the way for the International Space Station by conducting experiments and other operations in low-Earth orbit during three crewed missions over the course of 1973-74.
Visit GreatScience.com for more information.