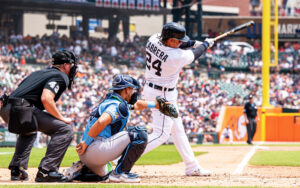 DETROIT – The Detroit Tigers will honor Miguel Cabrera's legendary career by hosting "Miggy Celebration Weekend," presented by Bally Sports Plus, at Comerica Park from Sept. 29 – Oct. 1. The Tigers will welcome the Cleveland Guardians for the final home series, with limited tickets available at tigers.com/Miggy.
Kicking off the celebration is the "Friday Night Party in the Park," presented by Casamigos Tequila, on Friday, Sept. 29. All fans will receive a commemorative Miggy Comic Book Cover, presented by Comerica Bank, and can enjoy themed-pregame activities on the Comerica Landing.
Prior to Friday's game, Cabrera will be recognized as the Tigers' 2023 nominee for the Roberto Clemente Award, which is presented annually to the player who best represents the game through positive contributions on and off the field. Fans can vote for Cabrera and learn more about the prestigious award by visiting MLBtogether.com/Clemente21.
Gates will open early at 11 a.m. on Saturday, Sept. 30, with the first 15,000 fans receiving a Cabrera Print-All-Over T-Shirt, courtesy of Visit Central Florida. Fans are encouraged to be in their seats early for a pregame ceremony honoring Cabrera's Hall of Fame career.
Sunday, Oct. 1 will mark Cabrera's final game at Comerica Park. All fans will receive an exclusive Cabrera Cheer Chard, presented by Bally Sports Plus, with gates opening at 1 p.m.
The Tigers, Pepsi and El Rey de las Arepas will host "El Rey | Miggy's Favorites," a pop-up experience at 44 Columbia Street that will feature food from one of Cabrera's favorite restaurants in Detroit. Dates of operation are Sept. 12-13 (3:30 – 7 p.m.), Sept. 14 (11 a.m. – 2 p.m.), Sept. 16 (3:30-7 p.m.), Sept. 17 (10 a.m. – 1 p.m.), Sept. 23 (3:30 – 7 p.m.), Sept. 24 (10 a.m. – 1 p.m.), Sept. 26-27 (3:30 p.m. – 7 p.m.), Sept. 28 (11 a.m. – 2 p.m.), Sept. 29 (3:30 – 7 p.m.), Sept. 30 (11 a.m. – 2 p.m.) and Oct. 1 (11:30 a.m. – 3:30 p.m.).