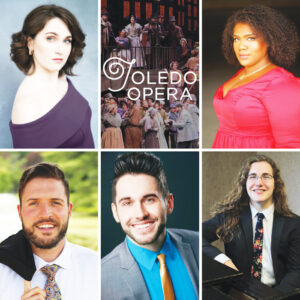 TOLEDO: Toledo Opera resident artists Sara Mortensen (soprano), Imara Miles (mezzo soprano), Jon Suek (tenor), Evan Fleming (baritone), and Steven Naylor (pianist) have arrived in Toledo for the 2023-2024 season.
All five will serve as touring artists for the Opera on Wheels program which travels extensively, visiting local educational institutions and bringing live opera to the furthest reaches of the Toledo area. Annually, the program is performed for 20,000 students from Findlay to Ann Arbor and Sandusky to Archbold.
This season, the traveling production will be an adapted children's opera, which sources its music and story from W.A. Mozart's Don Giovanni. Joshua Borths of Virginia Opera adapted the score and wrote the libretto. James M. Norman, Toledo Opera's Co-Artistic Director and Director of Production, will direct the production. "Continuing a decades long tradition, I look forward to working with the next generation of opera artists who will call Toledo Opera home next season. This group is absolutely fantastic," shared Norman.
The five will also perform Toledo Opera's 2023-24 installments of Opera Outdoors. Opera Outdoors is a series of pop-up live performances at outdoor community hubs throughout Toledo. Vocal selections from the classical repertoire, along with musical theater and other American standards will be heard in the fall of 2023 and the spring of 2024.
The Resident Artists will also sing smaller roles in Toledo Opera's mainstage productions of Cinderella, Romeo & Juliet, and Ragtime which are slated for this season.
Noted for her shimmering, soaring voice, soprano Sara Mortensen is a proud Michigan native. She earned her bachelor's degree in music from the Boston Conservatory at Berklee where she was a vocal scholarship recipient. In the May of 2022, Ms. Mortensen received her master's degree from the Manhattan School of Music. During her time at the Manhattan School she had the privilege to perform the title role in Massenet's Cendrillon in MSM's opera outreach, scenes from Idomeneo (Ilia), The Crucible (Ann Putnam), as well as preparing the role of Cupid in Offenbach's Orpheus in the Underworld, scenes from A Quiet Place (Dede), and Falstaff (Nannetta). Ms. Mortensen has also performed abroad in both Italy and France including scenes from La bohème (Musetta), Le Villi (Anna) at Opera Viva!, Faust (Marguerite), Les Contes D'Hoffmann (Antonia) and Cendrillon (Cendrillon) at Classic Lyric Arts. Other previous credits include Lucinda (Dark Sisters) and Solo Nina (Ainadamar) at The Miami Music Festival. In the fall of 2022, Ms. Mortensen looks forward to singing Bachianas Brasilerias No.5 with the Broadway Bach ensemble in New York City.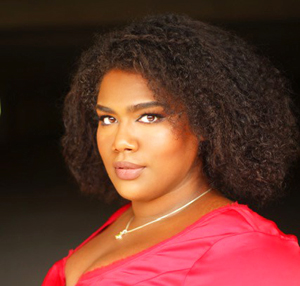 Hailed for her expressiveness and lush sound, Imara Miles is a Mezzo-Soprano from the Washington, DC area. With experience in both operatic and musical theater repertoire, Miss Miles has been a featured performer in shows such as Il Barbiere di Siviglia (Berta), The Drowsy Chaperone (Title Role), Gianni Schicchi (Zita), and Porgy & Bess (Lily) to name a few. As a graduate of York College of Pennsylvania (B.A.) and Indiana University (M.M.), Imara has been a young artist in programs such as The Glimmerglass Festival, Grant Park Music Festival, Pensacola Opera, Des Moines Metro Opera, and is currently a Resident Artist with Toledo Opera. Her past awards and recognitions include the Mollie Shapiro award at Des Moines Metro Opera, a finalist for the Jette Parker Program with The Royal Opera House, an Encouragement award winner from the Metropolitan Opera's Laffont Competition, and a semi-finalist in the George Shirley Vocal Competition. She last appeared as Olga in The Merry Widow.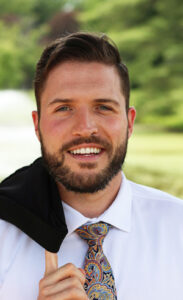 Jon Suek has sung the roles of Masetto (Don Giovanni), performed as an undergraduate at Western Washington University and Pandolf (Cendrillon). Being a native of the Evergreen State, Mr. Suek's transition to singing tenor repertoire coincided with his transition to the Midwest for graduate school at the University of Nebraska-Lincoln, a formative experience in both how cold winter can be and how elusive high notes can be. While enrolled at UNL, he sang the roles of Don Ottavio (Don Giovanni), King Kaspar (Amahl and the Night Visitor), Dino (A Wedding), and Hoffmann (first act only) (Les Contes d'Hoffmann). At UNL, recital apogees for him were performances of Schumann's Dichterliebe and Britten's Winter Words. After his time in Nebraska, Mr. Suek moved to Graz, Austria where he taught English for two years and then moved to Italy for six months to study il linguaggio dell'opera! After returning to the states, he sang an attenuated version of the role of Steve Jobs in a Seattle Opera Guild Preview from Bates' The (R)evolution of Steve Jobs, as a chorister for Seattle Opera's production of La Traviata, and as Tamino in a reduced English-language version of The Magic Flute with the Seattle based opera company N.O.I.S.E. You may have seen Mr. Suek in the Summer of 2023 singing at the Aquilon Music Festival (reviving his interpretation of Don Ottavio), at the Mostly Modern Festival in New York, or at the Lyric Opera Studio Weimar singing Tamino (in German). If you are interested in seeing and hearing more of Mr. Suek (rhymes with "book"), you can find him tooling around your local municipal golf course. He will gladly trade his rendition of your favorite tenor aria for golf balls.
American Baritone Evan Fleming is a New Jersey native and versatile stage performer engaging in opera, musical theatre, and contemporary music. In the 2022-2023 season, he created the role of Father in the world premiere opera OURLAND: A Dystopian State with the San José Chamber Orchestra. In May 2023, Mr. Fleming joined the Opera Company of Middlebury as an Apprentice Artist for their summer festival. While in Vermont, Mr. Fleming debuted roles in Samuel Barber's A Hand of Bridge (David) and Gian Carlo Menotti's The Telephone (Ben). In 2022, Mr. Fleming made role debuts in two of Stephen Sondheim's best musicals. In the spring, he appeared as Anthony Hope (Sweeney Todd). Returning to Opera Steamboat for a second summer, Mr. Fleming debuted a dream role: Bobby in Company. A graduate of Montclair State University (B.M. 2019) and The University of Alabama (M.M. 2021), Mr. Fleming created roles in two world premiere productions during the 2019-2020 season. In collaboration with the Tuscaloosa Symphony and conductor Adam Flatt, he created the role of Little John in Joseph Landers' Let Us Now Praise Famous Men which was recorded by Alabama Public Television for broadcast in 2020. In addition, he was seen in multiple roles in Michael Ching's modular work RSBE: Remove Shoes Before Entering. Past roles include Papageno (Die Zauberflöte) (Opera Steamboat), Dandini (La Cenerentola) (Red River Lyric Opera), Groom in Mark Adamo's Avow and Man in Michael Ching's Leo: An Opera in One Cat with The University of Alabama. Mr. Fleming is elated to join Toledo Opera as a Resident Artist for their 2023-2024 season.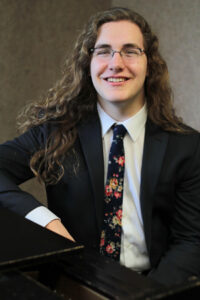 Steven Naylor graduated from Bowling Green State University in 2022, earning undergraduate degrees in performance and composition. A Michigan-native, he graduated from Interlochen Arts Academy in 2017. His piano mentors have included Laura Melton, Thomas Rosenkranz, Michael Coonrod, Catherine McMichael, and Steve Rodriguez; his composition mentors have included Elainie Lillios, Mikel Kuhn, Marilyn Shrude, Christopher Dietz, and Catherine McMichael. Mr. Naylor has presented seven solo piano and composition recitals, performing music from the Renaissance through the present. A fierce advocate for contemporary music, he performed solo works at the 8th International Conference on Music and Minimalism and the 2020 Bowling Green New Music Festival; he also frequently collaborates with living composers. Mr. Naylor won 1st place in the graduate division of the 2022 Marjorie Conrad Art Song Competition, performing alongside Carolyn Anderson, soprano; he also won 1st place in the undergraduate division of the 2019 Douglas Wayland Chamber Music Competition, playing alongside Gretchen Hill, clarinet, and Taylor Francis, flute. His micro-opera Visionary won BGSU's 2021 Competition in Music Composition and will be performed at the 2022 BG New Music Festival. His score to the short film A Study of Weathering and Erosion, directed by Michael Miller, won the award for "Best Original Score" at the 2021 BG University Film Organization Film and Media Award Ceremony. His recent compositions focus on astronomical and ecological themes, and have included works written for the icarus Quartet, the Newphonia Ensemble, and the Heidelberg University Single Reed Ensemble. While attending BGSU, Mr. Naylor was awarded the Hansen Music Fellowship, which provides funding to selected undergraduate students for musical experiences vital to students' long-term advancement. His debut album, idyll, was released in 2021 and features his own solo piano compositions. Mr. Naylor is an engraver for St. James Music Press.
For more information about the 2023-2024 Resident Artists and/or Opera on Wheels, please visit toledoopera.org.