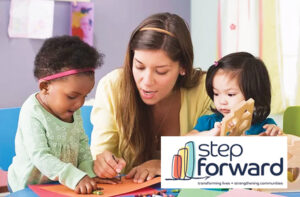 Cleveland – Step Forward, the state's designated anti-poverty for Cuyahoga County, is proud to announce the introduction of its new "People as Teachers in Training" Program.
Developed in response to the persistent shortage of qualified educators and the urgent need for at least 90 employees throughout Step Forward's Head Start program, this unique initiative aims to decrease staff vacancies and empower individuals with the skills and support necessary to become effective educators.
Individuals enrolled with Step Forward's "People as Teachers in Training" Program (PATT) will work 20 hours as Head Start education aides and receive 120 hours of on-demand, online instruction to obtain their Child Development Associate credential. In addition, participants will be provided weekly professional development opportunities tailored to increase their knowledge of early childhood education, Step Forward policies and procedures, and workplace professionalism. The goal is for participants to complete the credential process and move to full-time employment with Step Forward's Head Start. The PATT program will be provided at no cost to those who participate.
"At Step Forward, we believe in the power of growth and opportunity," Dr. Thea Wilson, Step Forward's Vice President of Children and Families, said. "With our innovative People as Teachers in Training program, we are not only shaping the future of early childhood education, but also empowering individuals to achieve their full potential. As we open doors to part-time positions, we also open pathways for personal and professional growth. By cultivating talent through PATT, we aspire to fill vacant positions and expand our capacity to serve even more young children, making a lasting difference in their lives and fostering a stronger community."
The first PATT cohort is scheduled to begin in October.
Those interested in applying for Step Forward's PATT program can apply online at www.stepforwardtoday.org.
About Step Forward
Step Forward helps people find hope, believe in their future and take steps to make it a reality. As the State's designated anti-poverty agency for Cuyahoga County, Step Forward is tasked and trusted to lead the fight on the ground against poverty in our community. The nonprofit organization helps low-income individuals and families address immediate needs and build long-term skills to transform their lives through early childhood education programs, adult skills training and other support. Programs include Early Head Start (birth to three), Head Start (three-five years of age); personal development programs to enhance life skills, manage anger or get on track with personal goals; career planning and job training to enable people to learn or enhance skills, earn certifications or improve readiness to pursue and win better job opportunities. Step Forward also delivers the Home Energy Assistance Program (HEAP). For more information, visit stepforwardtoday.org.