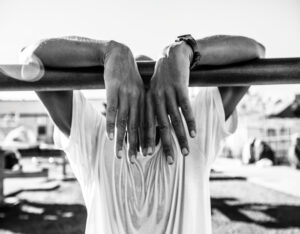 CLEVELAND, September 28, 2023: The Cleveland International Film Festival (CIFF) has announced its upcoming fall streaming opportunities, as well as its highly anticipated CIFF48 Streams dates.
26.2 TO LIFE VIRTUAL PREMIERE
In partnership with the CIFF47 award-winning film 26.2 TO LIFE, the Festival is thrilled to present the film's virtual premiere, streaming from 3:01 AM ET on Friday, September 29th through Tuesday, October 2nd at 2:59 AM ET in the United States and the United Kingdom.
26.2 TO LIFE explores the transformative power of San Quentin's 1000 Mile Club, a running club inside the prison where volunteer veteran marathoners train with incarcerated runners in preparation for a marathon that takes place entirely behind the prison walls — 105 dizzying laps around the crowded Lower Yard.
The virtual premiere will include the film and an accompanying post-screening discussion with featured subjects Markelle "The Gazelle" Taylor, Head Coach Frank Ruona, and Coach Diana Fitzpatrick, as well as the film's director Christine Yoo. The discussion will be moderated by ultra runner Dylan Bowman, a volunteer of 1000 Mile Club.
Ticket prices start at $14, with 50% of proceeds donated to support the Festival.
For full information, and to purchase tickets, visit 26.2 TO LIFE's virtual premiere page.  And to learn how you can watch, visit the film's FAQ page.
SPOOKY SHORTS
CIFF is offering a spectacularly scary selection of short films for your Halloween festivities with its SPOOKY SHORTS program, available for streaming from 11:00 AM ET on Friday, October 27th through Wednesday, November 1st at 11:00 AM ET. The lineup will include five of CIFF's scariest short film alums, as well as a sneak peek of one short film that will screen as part of CIFF48's After Hours program.
Tickets, which will go on sale Friday, September 29th at 11:00 AM ET, are $8 for CIFF members and $10 for non-members.
For full information, visit clevelandfilm.org/fall-events.
CIFF48 STREAMS
CIFF48 is excited to announce it will once again offer a streaming option for Festival-goers. Following CIFF48 at Playhouse Square, taking place Wednesday, April 3 – Saturday, April 13, 2024, CIFF48 Streams will take place Sunday, April 14 – Sunday, April 21, 2024. The online event will showcase hundreds of films throughout the week from the Festival's in-person run.
CIFF's membership program, including Passholder levels, will be announced in November 2023 at clevelandfilm.org.  Memberships will be available for purchase at that time. Individual tickets to CIFF48 at Playhouse Square and CIFF48 Streams will be available for purchase in March 2024.
CIFF48
CIFF48 will take place at Playhouse Square — the country's largest performing arts center outside of New York. The Festival will screen films in five of the iconic theatres at Playhouse Square, with a handful of other spaces being used for CIFF talkbacks, community events, and patron and filmmaker gathering places.
CIFF48 will announce its robust lineup in March 2024. Known for its program from a variety of genres, the Festival will offer audience and filmmaker engagement opportunities through its post-film Q&As, panel discussions, and special events. More than $130,000 in cash prizes will awarded to feature and short films through the Festival's esteemed audience and juried awards. CIFF is proud to be one of the few festivals in the world that is Academy Award® qualifying for all three categories of short films—live action, animated, and documentary. In 2023 CIFF was once again ranked as one of the top 100 Best Reviewed Festivals on FilmFreeway, and named as one of MovieMaker Magazine's 50 Film Festivals Worth the Entry Fee and as one of the 25 Coolest Film Festivals in the World.
For more information, visit clevelandfilm.org.
The Cleveland International Film Festival is supported in part by the residents of Cuyahoga County through a public grant from Cuyahoga Arts & Culture. Also, the Cleveland International Film Festival is made possible in part by state tax dollars allocated by the Ohio Legislature to the Ohio Arts Council (OAC). The OAC is a state agency that funds and supports quality arts experiences to strengthen Ohio communities culturally, educationally, and economically.