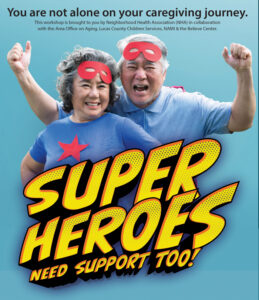 TOLEDO, Sept. 29, 2023: Neighborhood Health Association (NHA), along with collaborating community partners, are hosting Superheroes Need Support, Too: A Resource Workshop for Grandparents & Kinship Caregivers Raising Children.
The event will be held at Cedar Creek Church located at 2150 South Byrne Rd. Toledo, OH from 9 AM – 1 PM on Oct. 11, 2023.
The resource workshop addresses common challenges kinship caregiver families face: legal, financial, parenting, physical and mental health, family relationships and accessing resources.
A grandparent, relative, friend, or other kinship caregiver is a true superhero for providing children with a home, stability and ensuring their safety and well-being. Taking on the responsibility of raising a child or children that have been removed from their home is a significant life-changing experience not only for the child, but for the caregiver as well.
One morning, many resources
Collaborating with the Area Office on Aging, Lucas County Children Services, NAMI Greater Toledo, the Believe Center, Anthem, and other partners provided an opportunity to bring various resources and support services to the community in one place. In one morning, participants will be introduced to resources and services that will help them best navigate through the challenges they face every day. The workshop will not only focus on navigating through challenges, but also on the importance of self-care for the caregiver.
This workshop will remind caregivers that they are not alone, and of how important it is to also take care of themselves, to seek support and resources to get through changes and new responsibilities.  The event will also include a word from Keynote speaker retired Lucas County Juvenile Judge Connie Zemmelman, a panel discussion, break-out session presentations and gift raffles!
According to AARP, family caregivers in Ohio provided an estimated 1.27 billion hours of care to their parents, spouses, partners, and friends in 2017. In Lucas County about 25% of children who are removed from their parents' home are placed with a relative.  Across the country, about 2.6 million children live with a kinship caregiver. In Ohio, according to Policy Matters Ohio, more than 270,000 children live with a kinship caregiver; and in the Northwest Ohio area, the number of children living with a kinship caregiver is significantly growing.
To register: Register for the event by visiting NHA's upcoming events on their website at nhainc.org, by scanning the QR code on the event flyer or by simply calling NHA's Project Coordinator, Monica Morales at 419.309.1312.
NHA is one of the largest non-profit community health center systems in Northwest Ohio. The organization's mission is to remove barriers to quality healthcare and services through health programs, educational initiatives, quality care facilities, and support personal responsibility for one's own health regardless of the ability to pay.