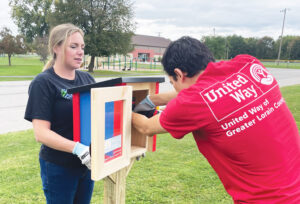 Lorain, Ohio: United Way of Greater Lorain County partnered with employees from Avient Corporation to build and install 15 Little Free Library throughout Lorain County on Wednesday, Sept. 28, 2023.
Little Free Library is a national free book exchange that encourages individuals and families to take a book and leave a book. Millions of books are exchanged each year through Little Free Libraries world-wide, profoundly increasing access to books for readers of all ages and backgrounds. Little Free Libraries play an essential role by providing access to books and encouraging a love of reading in areas where books are scarce.
Brian Hoar, senior manager of corporate quality with Avient Corporation, is serving as the 2023 United Way campaign chair at Avient and helped coordinate the project along with Nanette Wiedl, senior product specialist.
"At Avient, we believe that our commitment to community impact is not just a responsibility but a reflection of our core values," said Hoar. "We are a certified Great Place to Work® culture that supports our employees in giving back to our community through both service hours and financial contributions. We are proud to partner with United Way every year in our efforts and applaud the many other local employers and individuals who do as well."
Getting books into the hands of children and their families is an important initiative for United Way of Greater Lorain County and Little Free Libraries are one way for the agency to distribute books.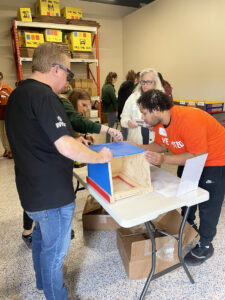 Academically, children growing up in homes without books are three years behind children who grow up in homes with lots of books. Studies show that about 60 percent of families who are low-to-moderate income do not have any age-appropriate books at home for their kids.
"One of the most successful ways to improve reading achievement of children is to increase their access to books, especially at home," said Ryan Aroney, United Way of Greater Lorain County president and CEO. "Some of my warmest childhood memories involve being read to by my mom, and books have become such a cherished part of my own family now that I'm a parent. I can think of no greater gift than to share this love of reading with families who otherwise might not have access to these amazing books. This project was a fun way for us to engage our partners from Avient Corporation in a meaningful way that helps students and families across the county."
The 15 Little Free Libraries were constructed by volunteers from Avient Corporation at United
Way's Stephen J. Ross Volunteer Engagement Hub, 642 Broadway in Lorain. All 15 Little Free Libraries were installed throughout Lorain County in neighborhoods without Little Free Libraries at partner sites including parks, childcare centers, social service agencies and churches.  United Way of Greater Lorain County will also manage future volunteer distribution routes to replenish and update the books inside each library.
Contact United Way of Greater Lorain County at 440-277-6530 if interested in delivering books or volunteering on future projects.