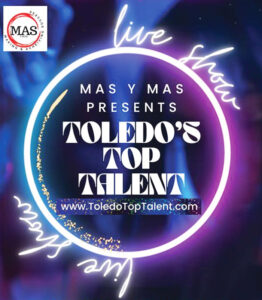 By La Prensa Staff
Oct. 17, 2023: Some Latino teens are making the trip of a lifetime this weekend as they embark to San Antonio to attend the Tejano Music Awards, scheduled for October 21st. The group consists of performers from Toledo's Top Talent program, going as observers of others who have paid their dues, also hoping to achieve fame.
Melinda Sánchez saw an opportunity for her students and contacted the Texas Talent Musicians Association, then heard last week from the organization that the group would donate tickets to the event. That led her to scramble to line up last-minute travel plans, coordinate with Latino families in her organization, and find sponsors for the trip.
Ms. Sánchez, who sells new and used cars in Perrysburg, approached the dealership's owner about sponsoring the transportation. That ask led to the use of a 15-passenger van for the trip. Co-workers and others are chipping in to cover gas costs and spending money for the teens. Ten students will get to make the trip with chaperones.
"I hope this (trip) gives them the ambition to continue doing what they're doing," said Ms. Sánchez, who founded Toledo's Top Talent with her daughter, Sabina Rodríguez.
The excursion will include a side trip to Corpus Christi, Texas, to meet with Abraham Quintanilla, the father of slain singer Selena. The teens will also tour the Selena Museum.
"She was a nobody who became a somebody," pointed out Ms. Sánchez. "Even with her death, she's still a somebody. Her father has a story to tell because he was a musician. His children became musicians and made it. Abraham has nothing but good to say about how his life was, how they barely made it and how their life is today."
Toledo's Top Talent is a program that provides support and resources to young musicians in the Toledo area. The program offers a variety of opportunities for musicians to learn, grow, and perform, and it helps them to develop their skills and talents. The teens had to submit to auditions and interviews last April to be accepted into the program, which has now achieved nonprofit status.
"Their confidence, their stage presence wasn't there. But each time we saw them perform, it got better and better and better," said Ms. Sánchez. "I think them seeing people on stage performing the same music they're performing will resonate."
The students spent twelve weeks in the program, much of it this summer honing their performing skills with appearances at the Ss. Peter and Paul Festival, Gritofest, and the recent HHM festival in Gibsonburg. All the kids making the trip are bilingual.
One of the teens making the trip is Luis Gamez, age 19. The Waite High School graduate took time off from his job at Owens Corning for the opportunity to travel to Texas for the first time.
"He is just over excited about going," said Ms. Sánchez. "His goal is to become somebody. Maybe seeing some of these groups perform, he'll say 'Wow, this is what I want to be doing.'"
"I'm just proud of the kids because I think the kids put forth a lot of dedication and effort," added Ms. Rodríguez. "I think it's a great reward and I think it's great for them to be able to see where their talents can take them as well. I think it's a great opportunity for all of our kids."
Rene Moreno has since moved to McAllen, Texas after graduating from Glass City Academy, but will make the trip to be with his peers in San Antonio. He flew back to Toledo to perform in the group's last show of the year this fall. Moreno comes from a musical family. Both his father and grandfather play piano. Moreno himself plays guitar and sings in Spanish.
"That tells you this kid is dedicated," said Ms. Sánchez, who stated the youngest making the trip is 14 years old.
She hopes the biggest takeaway for the program's participants "is that anything is possible." But the program emphasizes the students must put in the work to get better, as well as to learn to understand the business side of the music industry. She hopes to arrange meetings with some of the artists so kids can learn potential pitfalls and struggles firsthand from singers.
The program teaches life skills, such as surviving criticism, standing up for themselves, how to build their credit, purchase a home, save money, and budgeting. Those are some of the realistic aspects of performing, because some shows or businesses may try to take advantage of them or even refuse to pay for a performance. Ms. Sánchez has become a sort of "momager" (mom/manager) to the participants along the way.
Ms. Rodríguez wants the kids to know "that dreams are real." "I think a lot of people who live in Toledo don't dream outside of Toledo," she explained. "There's a lot more to life than what's in Toledo and I want them to know that. I appreciate all of our local stars, but it's about reaching for the stars and not staying stagnant in one place."