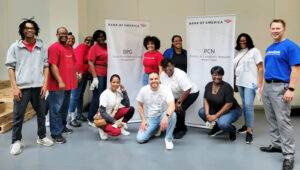 DETROIT, Sept. 20, 2023: Bank of America is awarding $2.4 million in grants to 47 metro Detroit nonprofit organizations focused on addressing food insecurity, access to quality education and healthcare, and building pathways to employment and economic mobility through workforce development.
A grant to COTS will support essential services such as emergency shelters, supportive housing, and affordable housing as well as the Self-Sufficiency Framework, a researched-based transformative coaching and mentorship strategy designed to create poverty-resistant families. Forgotten Harvest received a grant to support its Health Kids Program, an initiative to provide nutritious food to nearly 25,000 children in Wayne, Oakland and Macomb counties.
The bank's grant to The Greening of Detroit will support the Detroit Conservation Corps Workforce Development Program that connects low-income Detroiters to sustainable, family-supporting jobs in urban forestry, landscaping, arboriculture and nursery care. Additionally, a grant to NPower will provide a training pathway to IT careers for military veterans and vulnerable young adults.
"Partnering with Detroit nonprofit organizations to address issues like prevention and access to healthcare and youth workforce development and employment is part of our approach to fostering economic mobility and equitable progress," said Matt Elliott, president, Bank of America Michigan. "These investments demonstrate how we are taking action to provide our community with the essential resources and support needed to help people succeed in today's and tomorrow's economy."
The four first-time grant recipients are:
And here's the full list of first-round BofA grant recipients for 2023:
Abayomi Community Development Center
ACCESS
Chaldean American Ladies of Charity
Chaldean Community Foundation
Allied Media Projects, Inc.
American Heart Association, Inc.
Arab Community Center for Economic and Social Services
Chaldean American Ladies of Charity
Chaldean Community Foundation
Coalition on Temporary Shelter (COTS)
Connect Detroit (GDYT)
Detroit Employment Solutions Corporation
Elevate Energy
Enterprise Community Partners, Inc.
Flint Institute of Arts
Focus: HOPE
Food Gatherers
Forgotten Harvest, Inc.
Gleaners Community Food Bank of Southeastern Michigan
Haven Inc.
Housing Assistance Council
Initiative for a Competitive Inner City, Inc.
Invest Detroit Foundation
Jewish Vocational Service and Community Workshop
Junior Achievement of Southeast Michigan
Local Initiatives Support Corporation (LISC)
MCHS Family of Services
Michigan Science Center
Midnight Golf Program
Motown Historical Museum, Inc.
NAACP Empowerment Programs, Inc.
NPower Inc.
Pope Francis Center
Racquet Up Detroit
SAY Detroit
SER Metro-Detroit Jobs for Progress Inc.
The Carr Center
The Children's Center
The Edison Institute
The Greening of Detroit
The Housing Partnership Network, Inc.
The Salvation Army
United Way for Southeastern Michigan
Urban Alliance Foundation Inc.
Wayne State University
WHOH Detroit
YMCA of Metropolitan Detroit
These grants are among the $18 million Bank of America has awarded to Detroit nonprofits since 2018 as part of the company's commitment to delivering responsible growth to improve the financial lives of individuals, families and entire communities.