By La Prensa Staff
DETROIT, Oct. 26, 2023: Learn about the business challenges and opportunities that Latinas experience when starting and maintaining a business in Michigan, through 13 success stories collected in the book: "Women in Business."
The official launch took place on October 26th at the Wayne State University Study Center, 5221 Gullen Mall. Over 250 people were in attendance.
This anthology, which is available in English and Spanish, features success stories of Latinas who have made it big in the business world in Michigan, a state with a growing Latina population and a diversified economy. Each chapter narrates the personal and professional trajectories of these women who have created and/or managed successful companies; it presents their roots, motivations, difficulties and achievements.
Zoraida Sánchez, director and owner of Sánchez Income Tax & Translation Services, LLC is the lead author who shares her business journey and the challenges she has faced to establish herself as a leader and be a great example for future generations. "I am so grateful to share with other exceptional women, my life story, my efforts, and what I have accomplished. I feel deeply grateful and proud of my community," she said.
The participating businesswomen are:
María Cristina Aldana
• Liza Alvarez
• Maria Erazo
• María Fernanda Gómez
• Araceli Hernández
• Nohemí Herrera
• Isabel López Slattery
• María Márquez
• María Elena Morales Cárdenas
• Gloria Valeria Shneid
• Pat Sosa VerDuin
• Alejandra Walters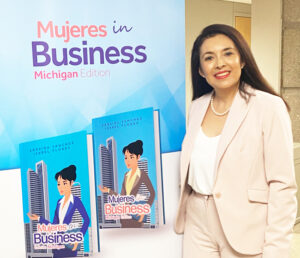 The book arises from the initiative of the journalist and businesswoman Isabel Flores, correspondent of La Prensa and owner of the advertising agency: Guía Consultiva Digital, with the support of the publishing house Fig Factor Media. "I am very grateful to the successful women who agreed to be part of this great adventure, which will be the beginning of countless achievements together and, without a doubt, an example of sisterhood and self-improvement for future generations," she said. "Michigan is an exemplary mosaic of the great entrepreneurial and professional potential that Latinas have in the United States."
The launch was held in collaboration with the Mexican Consulate and Wayne State University, which is the official sponsor. "We are very grateful for the great support we are receiving from both the Consulate and Wayne," added Sra. Flores.
The book was born with the idea of creating a strong connection between Latinas in the field of business, supporting each other and sharing our stories, successes, and opportunities to expand their horizons. It aspires to leave a legacy not only for families, but for the Latino community as a whole. "We want to show future generations that, with perseverance and dedication, anything is possible.".
To learn more about Women in Business, visit the following social media channels: @Mujeresinbiz
"With every page of this book, we hope to inspire other women to pursue their entrepreneurial dreams, strengthen our community, and leave a lasting mark in the business world," concluded Sra. Flores.