DIRECTOR OF EL CENTRO DE SERVICIOS SOCIALES, INC., Nov. 11, 2023
El Centro celebrates some of the agency's accomplishments during 2023:
We ended the year of 2022 acquiring the Lormet Building and we announced last year's Gala.  We started the planning for a Wellness Workforce Center. Even though we continue to believe that is the priority, we are holding the project as many other opportunities are rising, and we want to be strategic and responsible to meet the needs of the community.
Talk about new opportunities, last month on October 1st – Northwest Bank gave their building to El Centro.
Now with these additional buildings, we are putting a strategic plan together on how we will use these buildings to provide access to the community to truly care about the social determinants of health.
An increased healthcare plan in place with the Cleveland Clinic to provide access to care.
El Centro's Youth Leadership Program developed an amazing summer camp that has gained such a great reputation in our community.  Last year El Centro served a record-breaking of over 150 youth and an average of 85 youth daily. The camp ran the entire months of June and July.
Our youth ballet program, in collaboration with the North Pointe Ballet Company, participated in ballet classes at El Centro and performed with the ballet company in their summer and winter performances.
Our Community Health and Supportive Services have also had some major accomplishments during this year.
Merck Foundation collaboration with Case Western Reserve University Comprehensive Cancer Center for Partners – promoting access resources and treatment through Noble treatment solutions for those diagnosed with cancer.
When we think of Mental Health, a pillar for all of our Community Health Assessments for the county and each hospital, El Centro is the voice of many by organizing and providing access to money management and support for the Hispanic/Latino population.
An increased healthcare plan with the Cleveland Clinic to provide access to care and screenings was accomplished, coupled with health fairs by Mercy Health.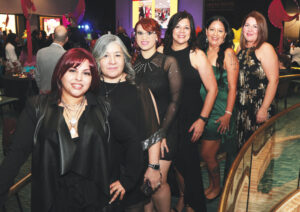 The Cancer Care Patient Navigator initiative, in partnership with The Merck Foundation, Case Western University, and Cleveland Clinic has touched the lives of over 100 participants, guiding them through the complexities of cancer care screening. This program stands as a testament to our innovative approaches in improving healthcare accessibility and outcomes.
The Lorain County Mental Health Navigator program, in collaboration with the MHARS board, has been a beacon of support for over 1100 individuals, connecting them to vital mental health and addiction services. In a similar vein, our partnership with the MHARS board in the CCP-RSP Program has empowered us to assist 1,536 individuals, demonstrating our collective commitment to fostering a healthier and more resilient community.
The CGM Initiative is a pioneering effort to address health disparities within the Hispanic/Latino community. By partnering with Medicaid Managed Care Plans, we aim to increase access, education, and participation in the use of Continuous Glucose Monitors, ultimately enhancing the well-being of diabetic Medicaid members in Lorain County.
United Way-211 has been an invaluable partner in our mission to assist over 1,200 individuals in finding essential resources throughout the year. This collaboration reflects our shared dedication to addressing the diverse needs of our community members.
We recognized the contributions of the past and look, also, to the future. We thanked Amy García, as former Board Director, for her many contributions. She is a leader in Northeast Ohio helping many Latino Social Services.
Thank-You Community for supporting El Centro!
Victor Leandry,
Executive Director of El Centro
2800 Pearl Avenue
Lorain, OH 44055
P.S. Gala 49 on Nov. 11, 2023 was 'sold-out' with 350 attendees. 
All La Prensa photos taken at Gala are by Mychal Lilly.