Por: Isabel Flores, corresponsal La Prensa
CLEVELAND: El Comité Mexicano de Cleveland y Cleveland Play House te invitan a celebrar el Día del Niño el próximo sábado 30 de abril de 1:00 a 3:00pm en Pivot Cneter of Art Dance & Expression, ubicado en el 2937 de la calle W. 25th. Juegos, regalos, información y muchas sorpresas en este gran evento.
Paty Esparza del Comité Mexicano de Cleveland invita a todos los niños a ir disfrazados. "El año pasado nos disfrazamos con los personajes del Chavo del 8 y este año el tema es de superhéroes", dijo.
Esta celebración se realizó por primera vez en Cleveland el año pasado y debido a la pandemia, la atención fue a través de los vehículos; pero gracias a que las condiciones ya lo permiten, este año se realizarán muchas actividades, juegos y regalos para toda la familia.
"Con la pandemia hubo muchos problemas de salud mental por el aislamiento, es por eso que ahora muchas organizaciones están interesadas en participar y hacer de esto una gran fiesta. Sabemos que hay muchos niños migrantes que viven aquí, queremos que la gente conozca nuestras tradiciones y disfrute de este evento que esperemos realizar año con año. Todos trabajamos en conjunto para lograr nuestro objetivo: Ver feliz a un niño", agregó la entrevistada.
Por su parte, Marcela Rodríguez-González, Directora de Desarrollo Comunitario de Cleveland Play House, comentó: "Como mexicana siento gran nostalgia por los días festivos, así que este año decidimos unirnos a la celebración para hacerla más grande e invitar no solo a los niños mexicanos, sino a todos los niños de Cleveland. Mi objetivo es llevar el teatro a toda la comunidad es por eso que apoyamos a otras organizaciones que realizan trabajo comunitario, estoy convencida que unidos somos más fuertes".
Para Rodríguez es muy importante conmemorar el Día del Niño, pues es un momento perfecto para destacar que todos los niños y niñas sin importar raza o edad, tienen derecho a la educación, a la salud, proteger sus derechos y a vivir una niñez sana. "Después de la pandemia hemos visto en las escuelas que los niños ya no saben compartir con los demás, afectó mucho en la parte social. Sin importar el lugar donde nacieron, celebraremos todos juntos y daremos a los papás los recursos que necesitan para que sus hijos puedan tener una niñez feliz y sana. Es importante recordar que los niños son la población más vulnerable y hay que proteger sus derechos".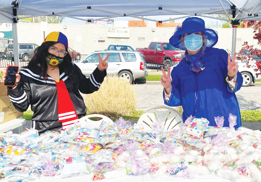 De acuerdo con Esparza, todas las familias recibirán un pasaporte a su llegada, el cual irán llenando conforme vayan visitando las mesas de cada uno de los patrocinadores, al final obtendrán un boleto que les permitirá participar en una rifa. Habrá pintacaritas, mochilas de regalo, juguetes, libros en español por parte del Consulado de México en Detroit, libros para colorear por parte del departamento de violencia doméstica, muñecos de peluche, bolsas de despensa para las familias; además, se realizarán exámenes de  hipertensión y  glucosa. Habrá rifas de piñatas. También se realizarán concursos y juegos. Por su parte, Cleveland Play House tendrá un fotobus para que las familias puedan guardar por siempre un lindo recuerdo de ese gran día, un grupo de artistas  realizará juegos de teatro y se rifarán boletos para el teatro.
"Estamos muy contentos por esta celebración. El Comité Mexicano fue creado para promover la cultura y tradiciones de nuestro país, hemos tenido mucha aceptación y es por eso que ahora realizamos esta celebración invitando a todas las comunidades. Sabemos que mucha gente llega a este país con sus hijos y dejan todo para vivir otra cultura, muchas veces se sienten solos, deprimidos y con mucha angustia, les invitamos a compartir con nosotros, ya que todos tenemos a un niño que llevamos dentro, es tiempo de salir y convivir", agregó Paty Esparza, quien destacó la gran labor que realiza Rey Esparza y Eduardo Rodríguez para la realización de este evento.
Entre los patrocinadores, se encuentran: 57 Insurance Agency Inc., Art House Inc, Catholic Charities Diocese of Cleveland, Cleveland EMS, Cleveland Metroparks, Greater Cleveland Food Bank, Holden Forest & Gardens, Kids' Book Bank, La Playa Supermarket, La Mega Cleveland, MetroHealth Devoted to Hope, Health and Humanity, Ventanilla de Salud, Consulado de México en Detroit, MYCOM, Neighborhood Family Practice Community Health Centers, Nuevo Acapulco Autentic Mexican Restaurant, PathStone, Pivot, Shoes Clotes for Kids y United Healthcare.
Día del Niño
La idea de festejar el Día del Niño surgió el 20 de noviembre de 1959, cuando la Asamblea General de la ONU tuvo una reunión en Ginebra, Suiza, en la que decidió reafirmar los derechos de los niños universalmente, mediante la aprobación de la Declaración de los Derechos del Niño y la Convención Sobre Los Derechos del Niño.
Desde entonces y aunque la celebración mundial es el 20 de noviembre, cada país ha elegido un día especial para celebrar y organizar actividades, con el fin de ayudar a desarrollar el bienestar de los pequeños en todo el planeta.
En México, en el año de 1916, en la ciudad de Tantoyuca, Veracruz, tuvo su origen la celebración a nivel nacional, sin embargo, fue hasta el 30 de abril en 1924, que se acordó como oficial la celebración, siendo presidente de la República el general Álvaro Obregón y Ministro de Educación Pública el licenciado José Vasconcelos.
Cabe señalar que los Derechos Humanos de niñas, niños y adolescentes están mencionados en la Constitución Política de los Estados Unidos Mexicanos, en los tratados internacionales y en las demás leyes aplicables, esencialmente en la Convención sobre los Derechos del Niño y en la Ley General de los Derechos de Niñas, Niños y Adolescentes (publicada el 4 de diciembre de 2014); además, el objetivo de dicha celebración es que se consagre un momento a la comprensión de la población infantil, fomentar su inclusión social y realizar actividades para la promoción de su bienestar y de los derechos a los que tienen acceso como seres humanos.