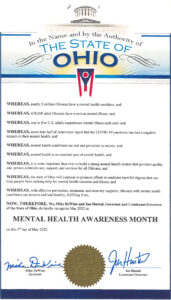 COLUMBUS, May 4, 2022: In recognition of May as Mental Health Month, the Ohio Departments of Health (ODH) and Mental Health and Addiction Services (OhioMHAS) are teaming up with Governor Mike DeWine's RecoveryOhio initiative to shine a spotlight on mental illness, create awareness, share resources, and combat stigmas that discourage some Ohioans from reaching out for help.
These resources include Stress First Aid – an easy-to-use, evidence-based tool that can be used by anyone to recognize and address signs of emotional distress and take action to promote wellness for self and others.
"Mental Health Month provides an opportunity to increase awareness and understanding of mental illness, and to remind Ohioans that's it's OK to not be OK and it's OK to ask for help," said RecoveryOhio Director Aimee Shadwick. "It is critical that access to timely and effective care is available to those who need it."
According to the National Alliance on Mental Illness (NAMI), 1 in 5 Americans experience a mental illness and 12 million have contemplated suicide. The numbers are even more alarming among younger populations as an estimated 1 in 6 adolescents (12-17) experienced a major depressive episode, while 1 in 3 young adults (18-25) experienced a mental illness and three million had serious thoughts of suicide.
To help Ohioans better manage stress and know when it might be time to get help, the state is promoting the use of Stress First Aid (SFA) – a time-tested, proven intervention model that helps people identify stress reactions in themselves and others along a color-coded continuum and offers concrete steps to help reduce the likelihood that stress outcomes develop into more severe or long-term problems.
Originally developed and created for use by the National Center for Posttraumatic Stress Disorder (PTSD) with the United States Navy, SFA has since been successfully adapted for other groups, including law enforcement, healthcare workers, and the public. The model identifies seven core actions focused on recognizing and addressing problems associated with various levels of stress in oneself and others. It is a widely used model that makes it easy for anyone to use the tools to help manage their response to stress.  All materials – including a free, 30-minute training and facilitator, training guide on how to use SFA in a variety of settings — are available on the OhioMHAS website.
"Stress is a normal part of being human. Learning how to effectively manage stress while keeping our emotional responses in check is vitally important to our overall mental and physical health," said OhioMHAS Director Lori Criss. "Stress First Aid addresses stress reactions before they create larger problems that can derail health, relationships, academics, or a career, and offers simple, practical actions anyone can use for themselves and others. You don't have to be a mental health professional to make a positive difference."
SFA is not meant to address all ranges of issues – it is a first aid model, and not designed to deal with lifelong problems, personality issues, serious mental health issues, or complex problems that would require more intensive interventions.
For those who need additional assistance, the State of Ohio operates a free emotional support CareLine (1.800.720.9616) to provide confidential help. Trained counselors are available 24/7 to provide guidance and support, and if necessary, facilitate connections to community treatment resources. Ohio also offers a Crisis Text Line (text the keyword 4HOPE to 741 741).  More information on these and other resources can be found on mha.ohio.gov.
"Stress is a normal reaction to an adverse situation, and while most Ohioans will be resilient, seeking professional help is recommended if you or someone you know is having difficulty adjusting and is experiencing disabling or persistent stress reactions," said ODH Director Bruce Vanderhoff, M.D., MBA.
"We want Ohioans to know that effective, short-term treatments are available. Sometimes, being a bridge to such care may be your most helpful action."