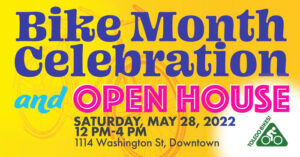 May 12, 2022: May is Bike Month! The City of Toledo is working with Toledo Metropolitan Area Council of Governments (TMACOG), Metroparks Toledo, TARTA, Toledo Bikes! and We Are Traffic to host a series of exciting bicycle challenges and events.
The City of Toledo is encouraging riders of all ages to explore our beautiful city on a bike during Bike to Work Week from May 16-20. Join the fun with our Bike to Work Week Daily photo challenges!
To kick off the week, post a picture riding your bike to work on social media and on our website with the hashtag #RideTOL and #TOLBikeWeek. When you do we will share your photos and you could win a prize! The other day challenges include:
Tuesday:Ride to your favorite coffee shop and post a picture
·      Wednesday: Take a picture with your bike at a Toledo City Park
·      Thursday: Snap a shot of you with urban agriculture you found on a ride
·      Friday: Explore the local art and mural scene by bike and post a shot
·      Saturday: Toledo Waterways! Bonus Points if you capture a kayak or boat in the picture
·      Sunday: Family fun ride! Post a picture of family and friends
Head to Toledo.oh.gov/rideTOL to get all of the details on Bike to Work Week, maps of park-n-ride locations, safety tips, and to learn more about what our partners at TMACOG, Metroparks, Toledo Bikes, and others are doing.
Toledo Metropolitan Area Council of Governments (TMACOG) is on a mission to highlight the benefits of cycling including its importance in our transportation system. Resources for cyclists and casual bikers as well as more information about Bike Month, including two challenges for riders and events all month can be found at https://tmacog.org/transportation/walking-biking/bike-month.
"Bike Month gives us the opportunity to showcase all of the benefits to using bicycles as a mode of transportation. We also get to highlight and promote all of the great resources we have available to us in our region with a variety of paths, bike lanes, and other bicycle amenities," Lance Dasher, TMACOG transportation planner said.
Riding a bike makes for a healthy commute that provides exercise and reduces air pollution and road congestion. Consider riding your bike to work once in a while. You can even ride to a bus stop to connect with public transportation – TARTA buses have bike racks!
Learn more at https://tarta.com/rider-information-2/bikenride.
Toledo Bikes is a downtown community resource relying primarily on volunteers and bike donations to support its operations. It offers reused bicycles and parts, bike repair services, on-site DIY tools, and general cycling awareness assistance. Learn more at www.toledobikes.org.
"Toledo Bikes is thrilled to continue its promotion for safe and useful bicycle transportation in the Toledo Region through its participation and support of Bike Month events like Bike to Work Week, Ride of Silence, and Bike Day at the Toledo Farmers' Market," Steve Atkinson, Board President Toledo Bikes said.