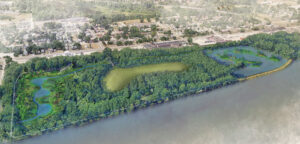 TOLEDO, June 3, 2022: Congresswoman Marcy Kaptur was joined by Karen Ranney-Wolkins, Commissioner of Parks & Recreation for the City of Toledo, Mary Mertz, Director of the Ohio Department of Natural Resources (ODNR), Debra Shore, EPA Regional Administrator, Erica Jensen, Great Lakes Commission, Ryan Darnton, National Oceanic and Atmospheric Administration (NOAA), and Jenny-Carter Cornell, Maumee Valley Area of Concern (MVAOC) to celebrate the completion of the Penn 7 Restoration Project.
This 59-acre fish and wildlife habitat enhancement project was funded through a National Oceanic & Atmospheric Administration (NOAA) Great Lakes Habitat Restoration Initiative (GLRI) Partnership Grant awarded to the Great Lakes Commission and subcontracted to the City of Toledo.
"Today we are seeing firsthand the benefits of partnership under the Great Lakes Restoration Initiative," Debra Shore, EPA Regional Administrator said.
"What was once the site of a confined disposal facility now has the potential to be fish and wildlife habitat, a downtown nature space, and an ecological asset to the community."
The total cost for the project was $2,769,644, which included $148,500 for engineering and design and $2,621,144 for construction.
The Penn 7 project site is located on the lower Maumee River near its mouth into Lake Erie. Due to the high amount of urban development in the area, much of the original fish and wildlife habitat has been lost.
"The natural habitat that is restored here will help us with our fish populations and our bird populations," Congresswoman Marcy Kaptur said.
"We are revitalizing and reviving and reinvesting all across the Great Lakes and we are a story America needs to know."
The completion of the Maumee River Habitat Restoration Project at Penn 7 improved approximately 59 acres of terrestrial and aquatic habitat to address a Beneficial Use Impairment (BUI) in the Maumee Area of Concern through the creation or restoration of:
9.5 acres of submerged and emergent wetlands and open water habitat
8.5 acres of coastal wetlands
20+ acres of upland habitat
In addition, the project provides quality spawning and nursery space for over 40 species of Lake Erie Fish, quality habitat for native birds and improves water quality and the overall environmental health of this area.
"The project we celebrate today, and others like it, don't happen by mistake," Karen Ranney-Wolkins, Commissioner of Parks & Recreation for the City of Toledo said.
"They happen because of the passion and determination of people who have it this their life's work."
For more information contact: Maumee AOC Advisory Committee