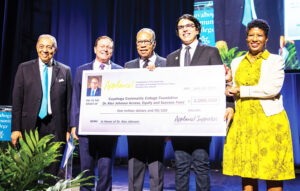 $1 million raised toward endowment for student access, equity and success
CLEVELAND, June 24, 2022: Cuyahoga Community College (Tri-C®) and the Cuyahoga Community College Foundation celebrated the leadership of President Alex Johnson at a gala in his honor this evening. The program applauded Johnson's leadership of the Tri-C Foundation, which provides resources for student success. During his tenure, scholarship awards increased more than $3 million.
The event, co-chaired by Richard A. Chiricosta, Darrell L. McNair, Beth E. Mooney, and Margaret W. Wong, launched an endowment bearing Johnson's name that will benefit future generations of students. The Dr. Alex Johnson Access, Equity and Success Fund will expand the Tri-C Foundation's capacity to provide short-term solutions for expenses — such as housing, food, technology and books — that often overwhelm students and disrupt their education.
Board of Trustees Chair Helen Forbes Fields, Tri-C Foundation Chair Lou Joseph, Gala Emcee Leon Bibb and Tri-C student Luis González announced that $1 million had been raised for the fund through the generosity of those who attended the gala.
"The greatest lessons come from our students, and each one has an inspiring story," Johnson said. "Tri-C students have shown me that, with an open door and faith in their promise, they will persevere on their educational journeys. Given the opportunity, they will impress you again and again."
Johnson spoke about growing up in North Carolina and how community support "lifted him up" and shaped his commitment to access and equity in education. He also noted that the Tri-C community, which he has led since 2013, functions as an extended family for many students.
"The credit for Tri-C's advances in student success belongs to all the dedicated people at the College," Johnson said. "They welcome, respond, teach, listen, innovate and deliver so that each student finds success for themself and their family."
Johnson retires June 30. Michael Baston, Tri-C's fifth president, will lead the College beginning July 1.
"Tri-C has been blessed with the inspirational leadership of the great presidents who served before me," Johnson said. "I move on knowing that I leave the College in the hands of another great leader."
Donations to the Dr. Alex Johnson Access, Equity and Success Fund can be made online or by calling the Tri-C Foundation at 216-987-4868.
About the Cuyahoga Community College Foundation
The mission of the Tri-C Foundation is to provide resources for advancing student success at Cuyahoga Community College and to transform the lives of those Tri-C serves. The vision is to ensure Tri-C has the resources needed to help every student learn, thrive and succeed and to create a prosperous community for all.