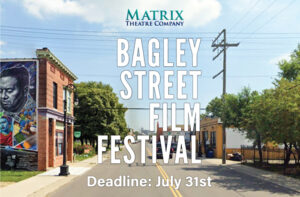 Submissions are Now Open!
Matrix Theatre is proud to present our inaugural Bagley Street Film Festival, a festival by Michigan artists for Michigan talent!
Matrix aims to give filmmakers the opportunity to be the voice for our state's stories, and showcase films about the city and people of Michigan.
Recognition will be given for:
Best Narrative Feature
Best Documentary Feature
Best Narrative Short
Best Documentary Short
Best Youth Produced Feature
Audience-Selection
Films must have been completed no earlier than 2020.
Participating filmmakers must secure all necessary permissions for third-party music, sound effects, locations, artworks, and/or people featured in their films.
Local filmmakers from Wayne, Oakland, Washtenaw, Macomb and Livingston counties. Contact us if you are from out-of-county but would like to participate!
For complete details, rules and to submit your work, visit
filmfreeway.com/BagleyStreetFilmFestival
and/or
www.matrixtheatre.org/bagleystreefilmfest