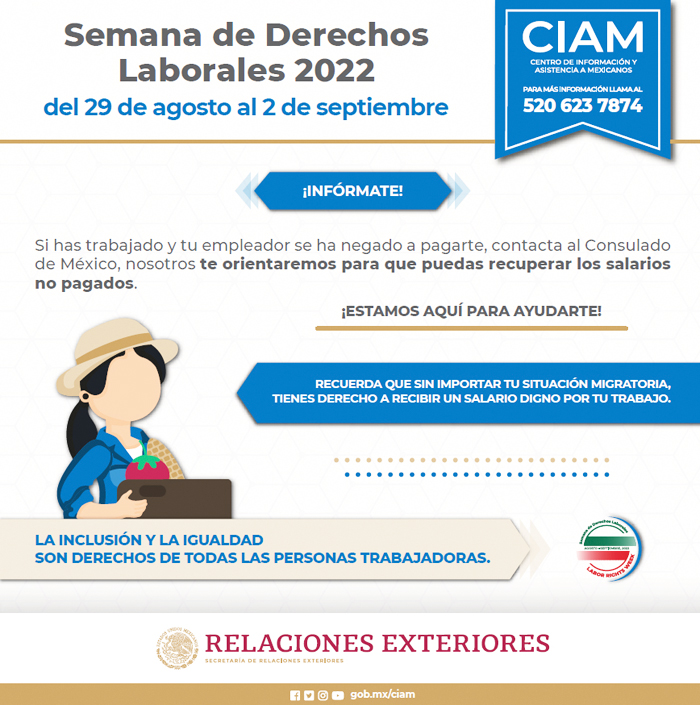 Por: Isabel Flores, corresponsal La Prensa
Detroit, MI: El Consulado de México invita a la XIV Semana de los Derechos Laborales (SDL) que se llevará a cabo del 29 de agosto al 2 de septiembre del presente año. El tema central de este año es: "La inclusión y la igualdad son derechos de todas las personas trabajadoras", con el cual se pretende resaltar la importancia de la igualdad de género en los lugares de trabajo, haciendo énfasis en los problemas de discriminación y acoso que sufren las mujeres en el ámbito laboral, particularmente de aquellas que trabajan en el programa de visas H-2.
Brenda García Reséndiz, Cónsul de Protección, señaló: "La búsqueda de la igualdad es una prioridad en la política exterior, aunque la mayoría de nuestros trabajadores migrantes son hombres también hay mujeres que cada vez están migrando más como trabajadoras, no solo como acompañantes. Queremos hacer hincapié en que reconocemos la distinta necesidad que tienen de abordar su situación, no solo en el tema laboral sino también en el tema de inclusión e igualdad".
La diplomática mexicana invita a todos los connacionales a participar de las diversas actividades que se llevarán a cabo tanto de manera presencial como virtual. "A partir de la pandemia, la modalidad en línea llego para quedarse. Las actividades presenciales cumplirán con todas las regulaciones sanitarias vigentes. Estar en persona es un beneficio muy grande ya que muchos trabajadores no tienen acceso a redes, así que este año estamos retomando de lleno".
El programa es el siguiente:
Martes 25 de agosto de 2022
Mercado de información en CHASS, Detroit, MI
De 9:00am a 2:00pm
Tema: Conoce tus Derechos. La situación que viven los mexicanos que laboran en plantas procesadoras de carne, lecherías, repartidores de comida por aplicación y sector servicios.
Domingo 28 de agosto
Jornada Extraordinaria en Ottawa County
Taller informativo de Derechos Laborales en Grand Haven, MI para trabajadores agrícolas. Campaña de Protección Consular.
Tema: Derecho de las personas mexicanas que trabajan en el campo. Derechos para portadores de visas H-2ª y H-2B.
Lunes 29 de agosto
Firma de memorándum de entendimiento con Wage and Hour Division. Autoridades del Departamento del Trabajo.
Martes 30 de agosto
Capacitación virtual a los Grupos de Respuesta de Michigan y Ohio con personal del Departamento del Trabajo DOL y NLRB vía zoom
Tema: Derechos de los empleados que se ven afectados por la COVID-19: Ley del Plan de Rescate Estadounidense de 2021 (ARPA). El cuidado de la salud en el trabajo.
Miércoles 31 agosto y jueves 1septiembre
Programas de radio sobre Derechos Laborales, medidas para evitar golpes de calor y los derechos de las mujeres.
Viernes 2 septiembre
Clausura Semana de Derechos Laborales con el Cónsul titular Roberto Nicolás Vázquez
Taller informativo OSHA-UAW
Seguridad en el Trabajo y Derechos de Salud y Seguridad. Cuidado de la salud en el trabajo.
SDL es una iniciativa del gobierno de México relacionada con el Día del Trabajo en Estados Unidos (Labor Day). Su objetivo es aumentar el conocimiento de la comunidad mexicana ‒e hispana, en general‒ sobre sus derechos laborales. "Nuestra labor es vigilar que se cumplan las condiciones básicas de los trabajadores, independientemente de la condición migratoria. Brindarles nombres y números de contacto en caso de alguna emergencia, que conozcan las agencias y autoridades que pueden apoyarlos. Informarles cómo presentar alguna denuncia o reclamo. Es decir, brindarles las herramientas que necesitan en caso de tener alguna emergencia", agregó la Cónsul Brenda.
Asimismo, García Reséndiz dijo que esta labor la realizan gracias al apoyo de las agencias con las que trabajan. "Este año estamos renovando nuestro memorándum de entendimiento con Wage and Hour Division y hace poco empezamos a trabajar con un sindicato que desea informar a los trabajadores sobre los derechos que deben ser garantizados. Acercarse a las empresas y a los trabajadores no siempre es fácil para nosotros, entonces una actividad como la SDL es muy útil porque es un referente, la gente ya la ubica y las agencias están muy comprometidas para dar a conocer su labor a través de nosotros. Somos como un puente entre la comunidad y las agencias".
De acuerdo con la entrevistada, desde hace dos años aproximadamente ha sido una prioridad para el Consulado llevar información al Oeste de Michigan, debido a la cantidad de trabajadores temporales que laboran en los campos. "Durante el verano realizamos varias visitas a los campos y la actividad en Grand Haven durante la SDL es como un cierre a estos recorridos. Entre otras cosas, brindamos información para evitar los golpes de calor, asegurar que cuenten con agua y alimento. Además de informarles sobre la documentación necesaria para que sus hijos entren a la escuela, obtengan la doble nacionalidad y estén inscritos a programas de salud. Aunque estos trabajadores vienen con visa, debemos estar pendientes del tema de trata y de que los empleadores cumplan con los contratos que se establecen desde México con sus contrapartes, hay muchos detalles finos que debemos revisar cuidadosamente".
Para concluir, la Cónsul Brenda destacó que uno de los grandes beneficios de esta actividad es empoderar a los connacionales con información para acceder a beneficios que hacen la diferencia en sus vidas.