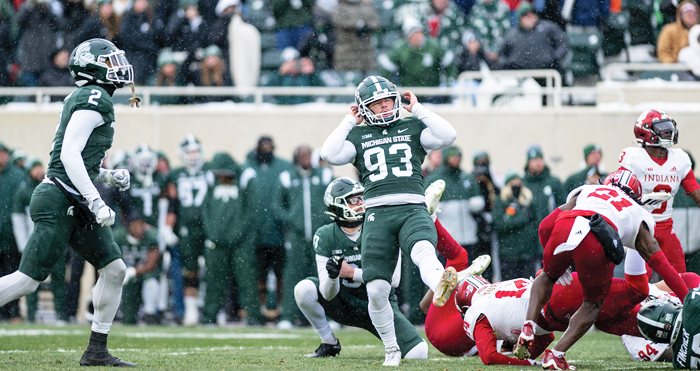 By Larry Arreguin
EAST LANSING, MI, Saturday, November 19, 2022: On a blustery cold Saturday afternoon, the Indiana Hoosiers came into town with one thing on their mind, the Old Brass Spittoon. For the Michigan State Spartans, a win would make them bowl eligible and also have them retain the trophy they took last year from the Rock in Bloomington.
At the end of the first overtime both teams remained at 31 apiece. With the Hoosiers getting the ball first in the 2nd overtime, they stomped into the end zone on a 2 yard run by Shaun Shivers, Running Back (#2). After a Hoosier 2-point conversion, the Spartans were faced with a do or die situation trailing 39-31. After getting to the 10 yard line, with 4 and 7 to go, they were unable to convert and suffered a stunning loss.
Indiana was led by Shivers, who rushed for 117 yards on 13 carries. On defense, Bryant Fitzgerald, Defensive Back (#31) had 14 tackles, including 6 solo.
The Spartans racked up over 540 yards of total offense and in the final seconds of regulation missed a 22 yard field goal. Payton Thorne, Quarterback (#10) passed for 298 yards and Jalen Berger, Running Back (#8) and Elijah Collins, Running Back (#24) both rushed for 125 and 109 yards. Cal Haladay, Linebacker led MSU with 10 tackles, 4 of them solo.
Each team has one game remaining, the Hoosiers will host the Purdue Boilermakers at the Rock. While the Spartans travel to Happy Valley to face the Penn State Nieany Lions.