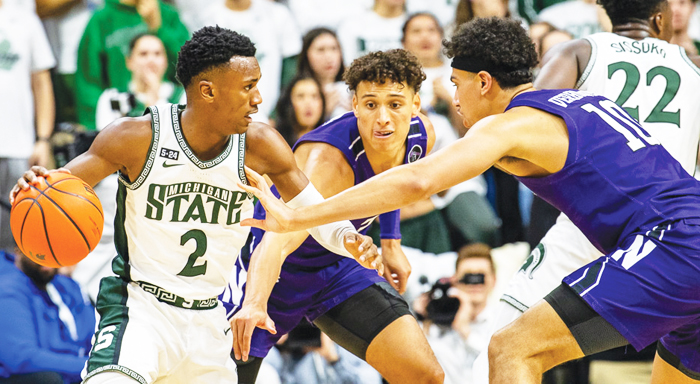 By Larry Arreguin
EAST LANSING, MI, Sunday, December 4, 2022:  After going 5-3 in non-conference games, the Spartans were hoping to start the Big Ten season with a win over the visiting Northwestern Wildcats. The visitors had different thoughts on their minds, specifically Boo Buie, Guard (#0), who led all scorers with 20 points.
At the end of the first half, the game remained tight with the Wildcats leading 37-36. Eventually, the visiting team would build increase their lead. With 11:26 remaining, Chase Audige, Guard (#1) hit a 3, giving the visitors their biggest lead of the night at 55-46. The Spartans would claw back and with :46 seconds remaining, A.J. Hoggard hit circus show layup, to cut the score to 64-63. That's as close as they would get, missing on their last two possession, leading to the the final score of Northwestern 70 and MSU 63.
Leading scorers for the Spartans were Maddy Sissoko, Center (#22) and A.J. Hoggard, Guard (#11) who each scored 12 points. Hoggard, also had 8 assists for the home team, while Joey Hauser, Forward (#10) led the team with 8 rebounds.
For the visiting Wildcats, Buie had 20 and Audige had 15 points. Defensively, they were led by Robbie Beran, Forward (#31) who had 7 rebounds.
The 5-4 Spartans, will travel to the Bryce Jordan Center, where they will take on the 6-2 Penn State Ni`any Lions. For the 6-2 Wildcats, they host the 4-4 Prairie View A&M Panthers.