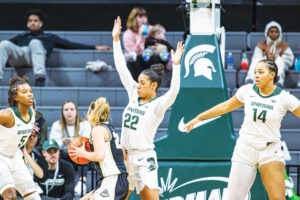 By Larry Arreguin
EAST LANSING, MI, December 5, 2022: Down by 14 (55-41) at the start of the 4th Quarter, the Michigan State Spartans refused to call it a night and put forth a dazzling display of defensive grit and scoring prowess to tie the game at 63 apiece and force over time. Unfortunately, that wasn't enough as they succumbed to the 9-1 Purdue Boilermakers, losing their Big Ten opener.
Kamaria McDaniel, Forward (#5) led the Spartans with 22 points, while Gabby Elliott, Guard (#3) led the team with 7 rebounds. The pesky defensive stole the ball 14 times from the visiting Boilermakers and caused 28 turnovers. Throughout the game, the home team struggled at the free throw line, making 14 of 24 attempts.
For Purdue, they were led by Senior Lasha Petree, Forward (#11) who scored 18 points. The leading rebounder for the game was Rickie Woltman, Center (#34) who had 10 for the visitors.
The Spartans, after losing to Ohio State (74-68), will try and end a 5 game losing streak when they face Detroit Mercy at home on 12-18-22.