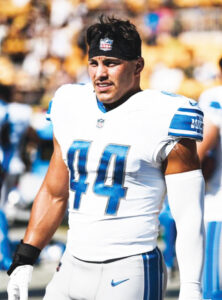 By Larry Arreguin
DETROIT, MI, December 11, 2022:  With playoff possibilities on the line, the home team Detroit Lions sent the Minnesota Vikings packing before a sellout crowd of 66,374 fans.  Minnesota came into the game with a 10-2 record and a comfortable lead in the NFC North, over the 2nd place Lions.  The win puts the Lions at 6-7, with 4 games remaining.
Starting for the Lions was Malcolm Luciano Rodriguez, Middle Linebacker (#44) a 6th round draft pick out of Oklahoma State.  Rodriguez of Mexican and American Indian heritage, is one of few Latino's playing in the NFL.  His play on the field resulted in 5 combined tackles (3 solo and 2 assisted), while playing 51% of the defensive plays.
The Lions Offensive was led by Jared Goff, Quarterback (#16) who completed 27 of 39 passes for 330 yards and 3 touchdowns.  This included a touchdown thrown to Rookie Jameson Williams, Wide Receiver (#9) on his first catch of his career.  Defensively, Alex Anzalone, Linebacker (#34) led the team with 9 combined tackles (6 solo and 3 assisted) and stayed on the field for 63 of 65 defensive plays.
Detroit kept Minnesota off balance, by succeeding on 2 trick plays.  The first was a fake punt on 4th and 8, that C.J. Moore, Safety (#38) ran down the field for a 42 yard gain.  Nine plays later, the Lions would score giving them a 21-7 lead. Later in the 4th quarter, with 2 minutes to go and facing a 3rd and 7, Goff found Penei Sewell, Offensive Tackle (#58) open for a 9 yard gain and a first down.  This would lead to a field goal to make the score 34-23, enough to ward off the Vikings.
The Lions will travel to New York, to face the Jets on Sunday.  The Jets are 7-6 and are led defensively by C.J. Mosley, Linebacker (#57) who has 125 combined tackles (60 are solo).  Coached by Dearborn Fordsons's Robert Saleh, the first Muslim American head coach in the NFL.  A win will keep the Lions hopes of making the playoffs alive.