By Larry Arreguin
DETROIT, MI, Sunday, December 27, 2022:  The Quick Lane Bowl Trophy turned out to be the perfect present for the New Mexico State Aggies, defeating the Bowling Green Falcons 24-19. With over 22,000 in attendance, football fans were treated to a game that featured a Ta'Ron Keith, 75 yard kick off return for a touchdown, a Ahmonte Watkins 45 yard sprint for a score and a Davion Daniels, Safety (#26) blocked punt that caused a safety. Diego Pavia, Quarterback (#10) took control late in the game to seal the win for the Aggies and give the New Mexicans a winning season at 7-6.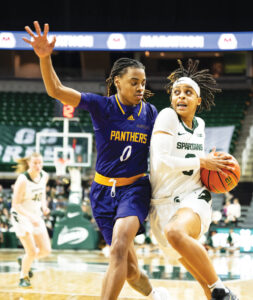 EAST LANSING, MI – The MSU Spartans Mens basketball team, held off the Oakland Grizzlies to win the instate rivalry. The game featured a return for Rocket Watts, Guard (#3) who once played for the Spartans. The final score was MSU 67, Oakland 54.
EAST LANSING, MI – With the MSU Students off for winter break, those in attendance to see the Women's basketball witnessed a team that was firing on all cylinders. The visiting Prairie View A&M Panthers were no match for the home team, losing 98-50.