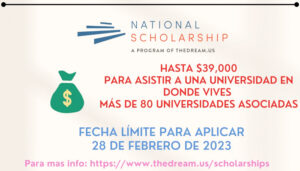 2023-2024 Scholarship Round closes Feb 28, 2023!
This scholarship may be for you, if you are undocumented and…
You are or are about to be a high school graduate; OR
You have or are about to earn a GED; OR
You have been or are currently enrolled in a community college or university.
You are eligible to apply if you:
Are undocumented and came to the United States before November 1, 2017, and have continuously lived in the United States since then or have DACA or TPS;
Came to the United States before the age of 16 (if you were born in the U.S. – you are not eligible for our scholarship);
Have significant unmet financial need;
Have graduated or will graduate from a United States high school (or have earned or will earn a high school equivalency diploma) before the Fall of 2023;
Graduated or will graduate with a high school GPA of 2.5 or better on a 4.0 scale or have a cumulative college GPA of 2.5 or better;
Intend to enroll full-time in an associate or bachelor's degree program at a Partner College in your state in the Fall of 2023 or Spring of 2024; and
Are eligible for in-state tuition at the Partner College you want to attend (not applicable if it is a private Partner College in your state).
www.thedream.us