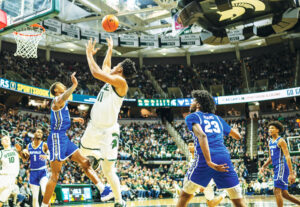 By Larry Arreguin
EAST LANSING, MI, December 30, 2022: The much awaited return of Malik Hall, Forward (#25) to the Spartans line up did not disappoint any of the 14,797 fans in attendance.  Coming off the bench since his stress reaction in his left foot, he went 2-2 from the 3 and scored 11 points for the winning team (89-68).
Joey Hauser, Forward (#10) had another double-double leading the Spartans in points (14) and rebounds (12).  A.J. Hoggard, Guard (#11) led the team in assists dishing out 10.  Overall MSU shot over 50.8% from the field including 42.1% the three.
The visiting Bulls were led by Isaiah Adams, Forward  (#23) who scored 15.  Jonnivius Smith, Forward (#24) led the team with 8 rebounds.
Michigan State heads into the Big Ten season with a 1-1 conference record and 9-4 overall.  The Bulls will begin Mid American Conference play on January 3rd, with a 6-7 record.