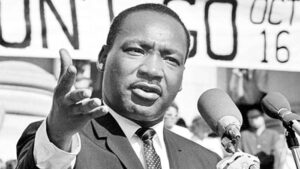 46th annual remembrance is longest-running MLK event in Cleveland
CLEVELAND — Cuyahoga Community College (Tri-C®) will host a celebration of the annual birthday observance of Dr. Martin Luther King Jr., continuing a tradition that began in 1977, six years before the federal government designated a day to honor King.
The 46th annual celebration begins at 3 p.m. Monday, Jan. 16, and can be viewed on WKYC or online at tri-c.edu/mlk2023. The remembrance will feature a musical performance by Grammy Award-winning Pastor Marvin L. Winans, along with student performances by the Contemporary Youth Orchestra (CYO), in residence at Tri-C, and more.
During the televised event, two Tri-C students will present essays that reflect on a quote from King's 1965 commencement address at Oberlin College: "The time is always right to do what is right."
The two essayists are Tariq Salti, a member of the Philosophy Club who plans to become a respiratory therapist; and Alejandro Ozuna, who is part of the Hispanic Council and a student in the Conflict Resolution and Peace Studies program.
In addition, 11 Tri-C students will be honored for their scholarships from the Dr. Martin Luther King Jr. Humanitarian Scholarship Fund, established in 1987, and the Cleveland Teachers Union Endowed Scholarship Fund, established in 1995.
In keeping with King's vision of a beloved community, the College will join with Cleveland State University (CSU) on Jan. 17 for the 32nd annual celebration breakfast commemorating King's legacy.
Immediately following the breakfast, Tri-C and CSU will co-host a summit, Education as a Civil Right: Building a Culture of Community and Equity. The summit brings together the leadership teams of the two institutions to confront the inequities in education that exist nearly 60 years after the passage of the Civil Rights Act.
"Tri-C and CSU have shared histories and missions of uplifting people of all cultures and helping them build bridges to a better future," Tri-C President Michael Baston said. "As new leaders of the two largest public higher education institutions in Cleveland, CSU President Laura Bloomberg and I are committed to working together more intentionally to address inequities in educational opportunity and student success in Northeast Ohio."