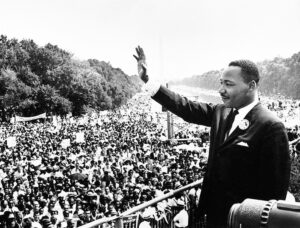 COLUMBUS, Jan. 3, 2023: Ohio Governor Mike DeWine and the Ohio Dr. Martin Luther King, Jr. Holiday Commission announced the winners of the annual MLK Awards honoring the service and achievements of Ohio residents and organizations in areas consistent with the teachings and example of Dr. King.
"These Ohioans demonstrate impressive leadership in carrying on Dr. King's legacy by bringing their communities together," said DeWine. "We are incredibly grateful for their work to keep his dream alive and encourage unity among all Ohioans."
The Commission will recognize the winners at noon Thursday, Jan. 12 during the 38th annual Ohio Dr. Martin Luther King, Jr. Commemorative Celebration at Trinity Episcopal Church, located in downtown Columbus. The ceremony will be livestreamed at das.ohio.gov/MLK and rebroadcast on the Ohio Channel. The event also will feature student speakers from the 2022 Statewide MLK Oratorical Contest.
"The Commission is privileged to honor these outstanding Ohioans who reflect the values Dr. King advocated," said McKinley Brown, chair of the Commission. "These winners have created positive social change and made a difference in the lives of their fellow Ohioans through their economic, education, and community-building efforts."
The following three individuals and five organizations will be recognized:
Ohio Dr. Martin Luther King, Jr. Governor's Humanitarian Award – Bishop Robert A. Culp of Holland
The Governor's Humanitarian Award seeks to honor those quiet soldiers who promote the welfare of humanity and the elimination of pain and suffering through their own selfless service, often without recognition. Nominees possess a personal activism that has inspired unheralded long-term service to the community and stands as a model for others to emulate.
Bishop Culp served as senior pastor of the First Church of God in Toledo for 61 years. He retired from his pastoral role in September 2022 and is now helping to transform a closed satellite campus of the University of Toledo into a hub for community services programming.
According to his nominators, "He is known for his compassion and willingness to roll up his sleeves and get to work. His passion for the Toledo community is diverse and far reaching as he was profoundly impacted by Dr. King."
His nominators credit him for bringing sustainable change to Toledo. For example, in 1967 Culp and other African American leaders convinced Toledo City Council to pass one of the nation's first anti-discrimination housing laws. The housing policies took effect in 1968. Culp also helped expand job opportunities by creating a corporation which operated a McDonald's franchise, factory, and two grocery stores.
His nominators added that at the same time Culp is changing city ordinances and leading and developing leaders in the fight for equality, he can be found serving food to the homeless and playing with disadvantaged children.
Individual Award – Patricia "Trish" Harris of Springdale
The Individual Award recognizes those who have made significant contributions toward building a sense of unity among Ohio citizens.
For over 30 years, Trish Harris has worked tirelessly as a leader within the Ohio Bureau of Workers' Compensation (BWC) and in her community by providing the training, education, platforms, and opportunities to bring people together in hopes that someday oppressed people would "not be judged by the color of their skin, but by the content of their character."
Throughout her career, Harris has mentored countless others and developed teams that exemplify diversity and inclusion. As Chief Operating Officer, she has led her division, which represents over half of the employees at BWC, by showing and training them to become true advocates for all BWC customers.
Harris implemented diversity, equity, and inclusion training for her division. Her commitment to diversity, equity, and inclusion also has been illustrated at BWC by her efforts to develop a widely diverse team of claims representatives who can identify and relate to all BWC customers, employers, and partners. She has helped implement programs that have provided a platform for those who have felt marginalized or treated unfairly to be heard.
Youth: Capturing the Vision of Dr. Martin Luther King, Jr. Award – Ernie Davis III of Wyoming
The Youth Award recognizes young Ohioans who exemplify leadership, nonviolence, commitment to excellence, and interracial cooperation. Nominees must have demonstrated an adherence to one or more of Dr. King's Six Principles of Nonviolence and must have been 20 or younger on Nov. 30.
Davis is a force for good in greater Cincinnati at only 11 years old. As a student at Wyoming Middle School, he spends much of his time studying and playing on his basketball team. In his spare time, he volunteers as Professor Ernie, teaching kids about Black heroes and she-roes of today and years past.
Each month he reads books from the library, organizes his thoughts into a slide deck, and teaches K – 8 students about one hero and one she-ro. He began Roots presentations in 2018 as a 7-year-old in Chicago. During the COVID-19 pandemic he taught his Roots program virtually. Since the summer of 2022, Davis and his mother, Judith, have been teaching classes in-person monthly at the College Hill Branch of the Cincinnati Public Library.
Davis' other contributions include helping to raise funds to donate books from diverse authors to his local library, helping develop anti-bullying recommendations for his school, helping develop the first Diversity Day at his elementary school, and sharing tips with his peers on how to deliver orations after he won the 2019 Frederick Douglass National Historical Site Oratorical Contest.
Organization Award – Opportunities for Ohioans with Disabilities
The Organization Award recognizes organizations that have made significant contributions toward building a sense of unity among Ohio citizens.
Opportunities for Ohioans with Disabilities (OOD) is the State of Ohio agency that empowers Ohioans with disabilities through employment, disability determinations, and independence. OOD is deeply committed to Diversity, Equity, Inclusion, and Accessibility (DEIA) and is actively engaged in continual DEIA improvement.
OOD developed a new group of employment support services to address the barriers to employment reported by OOD participants. These new services are called Bridge Support Services. They include obtaining identity cards for paid work experiences; securing interview and work clothing; career training exploration; completing college entrance and financial aid applications; helping register for classes; and connecting participants with resources to help with childcare, transportation, shelter, mental health care, banking, and applying for services with other community agencies.
In addition, OOD began offering remote services permanently after finding this service modality eliminated many barriers to participation. OOD also expanded its program teaching participants to use technology so they can effectively participate in services and interviews remotely.
Collaborative Effort Award – Two Collaborative Effort Awards are being given to a total of four organizations
The Collaborative Effort Award recognizes any combination of individuals, communities, businesses, or other organizations that collectively have made significant contributions toward building a sense of unity among Ohio citizens.
Collaborative Effort Award winner 1 of 2: Economic and Community Development Institute and Turner Construction Company, both of Columbus The Economic and Community Development Institute (ECDI) and Turner Construction Company are addressing barriers experienced by minority- and women-owned businesses in the construction industry. They are doing so through ECDI's Minority Contractor Resource Center and the Turner School of Construction Management.
Development and aligned partnership of these programs help subcontractors at every stage of the business journey access the tools they need to reach the next step and achieve their business goals.
The goal of the ECDI Minority Contractor Resource Center is to enable minority- and women-owned businesses to grow by providing training, advice, loans, and incubation/acceleration services needed to help subcontractors and small business owners participate in larger commercial construction projects. In partnership with Turner Construction, ECDI has been able to advance programming to help emerging minority- and women-owned firms.
Turner's mission to grow under-represented businesses dates to 1969 with the founding of the Turner School of Construction Management, a free program available to owners and employees of small minority-, women-, disabled-, and veteran-owned business enterprises whose services/products align with the construction industry.
Collaborative Effort Award winner 2 of 2: Black Girl Rising and Junior League of Columbus, both of Columbus
Black Girl Rising Inc. and the Junior League of Columbus have joined together to lift up African American girls in the Columbus area.
Black Girl Rising was founded in 2010 as Rise Sister Rise to help ensure African American girls live lives of authenticity, equality, and resiliency. The Junior League of Columbus is part of the Associations of Junior Leagues International whose mission is to advance women's leadership for meaningful community impact through volunteer action, collaboration, and training. Throughout its 100-year-history, the Junior League of Columbus has been making a difference in the lives of the less fortunate in central Ohio.
Recognizing members should have a better understanding of the audiences they serve, the Junior League of Columbus formed a Diversity, Equity, Inclusion, and Belonging (DEIB) Council to create a welcomed representation of diverse feelings of acceptance across all partnerships with the Junior League.
During the 2021-2022 League year, the DEIB Council, in its first year, hosted two book club meetings, created a resources library on its membership website, developed a DEIB calendar promoting DEIB topics throughout the year, and started a DEIB Speaker Series.
The speaker series began in May 2022 featuring Black Girl Rising founder Fran Frazier as the speaker. This led to an ongoing partnership. The organizations joined together to host seven "Love Letters to Black Girls" events in the fall of 2022 throughout Columbus. These events fostered a sense of community building that the organizations plan to build upon