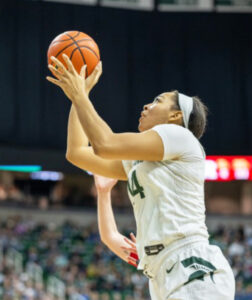 By Larry Arreguin
EAST LANSING, MI, January 22, 2023: The Spartans arrived at the Breslin Center with determination, on the heels of a tough overtime loss to the #10 Iowa Hawkeyes, Thursday evening 84-81. In that game, Kamaria McDaniel, Guard (#5) scored 23 for the Spartans and All American Caitlin Clark, Guard (#22) scored 26 for the visiting  Hawkeyes.
At the end of the first quarter, Rutgers was facing a 27-10 deficit and after that, 11 points was the closest they came to the Spartans. MSU was lead by Taiyier Parks, Forward (#14) who scored 14. For the Scarlet Knights, they were led by Kaylene Smikle, Forward (#2) who scored 27.
The 11-9 Spartans go on the road to face Illinois (January 29, 2023) and Nebraska (February 2, 2023). Following the road trip, MSU will face U of MI at the Breslin Center on February 5, 2023.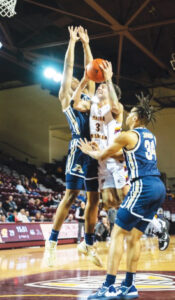 Zarzuela's 20 points not enough; CMU falls to Akron 69-51
By Larry Arreguin
MOUNT PLEASANT, MI, January 17, 2023: Following a 29 point performance in an overtime win against the Buffalo Bulls, the Chippewas Jesse Zarzuela's (Guard, #3) 20 points was not enough to defeat the visiting Zips. Akron was led in scoring by Xavier Castaneda (Guard, #13), who scored 13 points in the 69-51 win.
Over the weekend, the Chippewas suffered another defeat as they went on the road and lost to the Ohio Bearcats. Brian Taylor (Guard, #0) scored 27 in the loss. CMU will hope to stop the slide as it faces BGSU on January 24, 2023, at McGuire Arena. For the Zips, they traveled to Kalmazoo and defeated the Broncos 63-55. In that game Castaneda scored a game high 32.
Akron will try to extend their win streak to 5, when they host Miami of Ohio, on January 24, 2023.