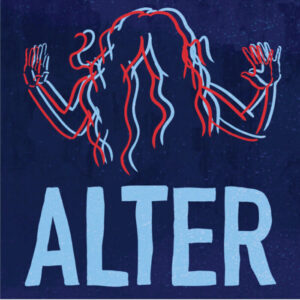 Cleveland Public Theatre (CPT) is proud to announce Alter by Tania Benites, co-produced with Teatro Público de Cleveland February 9-11, 2023 as part of its popular Test Flight 2023 series that showcases new work on its way to full production, providing both local and national artists with the keys to the theatre and the opportunity to co-produce original work-in-progress. The series encourages risk-taking and an entrepreneurial spirit towards creating new work as writers must choose their own casts and directors and are also responsible for providing artwork for their individual shows. CPT's New Play Development Program is intended to move projects forward to full productions at CPT and/or elsewhere.
You'll find more about Alter and the rest of the line-up at cptonline.org.
Alter
Written by Tania Benites
Directed by Kari Barclay
Co-produced with Teatro Público de Cleveland
Using a self-help book 'Hypnosis for Self-Confidence', customer service representative Maria seeks ultimate self-improvement to succeed in the corporate world. However, she soon discovers that the best version of herself may be her worst enemy.
Playwright Bio
Tania Benites is Peruvian-born and Cleveland-raised theatre artist. She received her BA in Theatre from Cleveland State University in 2012 with a focus in performance. As an actress Tania has worked at many theatres in Northeast Ohio including Cleveland Public Theatre, Teatro Público de Cleveland, Talespinner Children's Theatre, Ensemble Theatre, LatinUs, Clague Playhouse, and Rubber City Theatre. As a playwright, Tania's work has been featured in ¡Obras en Evolución! a festival of new play readings by Teatro Público de Cleveland in 2017 and 2018 where the beginnings of Alter were formed. She is also a proud member of the Young Playwrights Collective. When she is not creating theatre, Tania serves as the Adult Programming Assistant for the Cuyahoga County Public Library.
TICKET & SHOW INFORMATION
Alter runs February 9-11, as part of Test Flight 2023 which runs through – February 25, 2023, Thursdays, Fridays, and Saturdays at 7:30pm in CPT's James Levin Theatre, located at 6415 Detroit Avenue, Cleveland, OH 44102, in the heart of the Gordon Square Arts District.
Note that audience members must wear masks if attending our Covid-conscious performances which will be every Thursday of Test Flight. Click here for COVID-19 Safety Protocols.
EVERY TICKET is "Choose What You Pay" starting at $1 and can be purchased at https://www.cptonline.org/box-office/ or through the CPT Box Office at 216.631.2727 ext. 501.
The James Levin Theatre is ADA-compliant featuring a patron elevator and an all-gender, wheelchair accessible restroom.
Every Friday is Free Bev Friday at CPT. Mingle with the artists after the show and discuss the performance in a lively, social atmosphere – your drinks are on CPT.