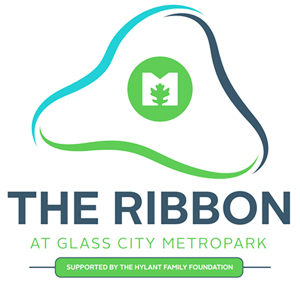 Toledo, January 24, 2023: The community will have opportunities to preview the ice skating trail at Glass City Metropark in February, nearly a year before it officially opens for its first regular season next November.
The Ribbon at Glass City, supported by the Hylant Family Foundation, will be open Tuesday through Sunday, February 4 through February 20. During these special preview days, attendance will be limited. Reservations are recommended and are being accepted online starting Thursday (January 26) for 90-minute sessions.
Preview prices including skate rental are $8 for adults and children 13 and older, $6 for children 4-12, and free for kids 3 and younger. For reservations, go to metroparkstoledo.com/theribbon.
Skates will be available at adjacent Market Hall, and guests may also bring their own skates. (Sizes: hockey skates, youth 10 through adult 13; figure skates, youth 8 through adult 13.)
"We are in the process of making ice to test the equipment and operation, and we know people are anxious to see what it's all about," said Mike Keedy, director of enterprise development for Metroparks Toledo. "During the preview days, we will take notes and gather feedback that will help things go as smoothly as possible when we open for our inaugural season in November."
Private events for Metroparks volunteers, members, select partners and community groups are also planned.
"It is still a construction site, and the other park features won't be open yet," Keedy said, "but the preview days will give people a taste of what this year-round Metropark will have to offer."
The Ribbon and Market Hall share an entrance on Front Street with the National Museum of the Great Lakes. Another entrance at Front and East Broadway also leads to the new area.
About The Ribbon
The 1,000-foot-long Ribbon is a paved, loop trail that is refrigerated in winter to provide 25,000-square-feet of ice skating surface with rolling hills and soft curves. It includes a 5,000-square-foot ice skating rink called the Pond that is suitable for beginning skaters and events.
Fourteen miles of tubing under the pavement supplies refrigerant to the surface, while a Zamboni ice resurfacing machine will maintain a smooth skating surface. Other times of the year, The Ribbon will be a multi-purpose trail for walking, roller skating and scooters.
The facility will be managed by Rink Management Services Corp., the largest operator of ice skating facilities in the U.S. The company operates sports facilities in cities across the country, including the ice ribbon at Maggie Daley Park in Chicago.
Park Opening in Spring
A grand opening for the phase 2 addition to Glass City Metropark is being planned for this spring. The park will include three, nature-themed playgrounds; a plaza for winter and summer activities; all-purpose trails for walking and bicycling; six cabanas beside The Ribbon that can be rented for small, private gatherings; and Market Hall. A restaurant operated by local company Poco Piatti will open in Market Hall when the park addition opens. A campground is expected to open in 2024.
The first phase of the riverfront park opened in December 2020 and includes the Pavilion rental facility; a sledding hill; a kayak launch and boat rental; trails and a boardwalk extending into the river.  A bike and pedestrian bridge connecting trails at Glass City Metropark and International Park opened last summer.
The park will be the hub of Glass City Riverwalk, a five-mile multi-use path on the East Toledo and Downtown sides of the Maumee River, from the Veterans Glass City Skyway to the Anthony Wayne Bridge. Riverwalk will connect new and existing park areas, six neighborhoods, corporate campuses and entertainment venues.
Riverwalk Work Begins
The first leg of Riverwalk construction will begin this spring from the Martin Luther King, Jr. Bridge to The Docks restaurant complex on the east side, and from the bridge to Fort Industry Square on the downtown side of the river.
Demolition work in the area of the boat basin at International Park is now underway and will include removing concrete and flagpoles around the basin as well as a nearby gazebo. Demolition on the downtown side of the river, behind One Seagate, will begin this winter.
A new project website, gcrtoledo.com, provides a project overview, schedule and related documents.