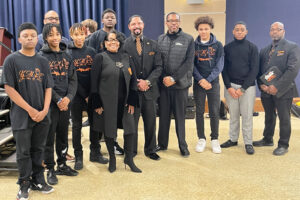 By La Prensa Staff
TOLEDO, 1-28-23: Toledo-area high school students heard inspiring messages from a former civil rights attorney and an Oscar-winning costume designer during the 39th annual Conference for Aspiring Minority Youth January 28 at the University of Toledo student union.
Ruth E. Carter won an Academy Award in costume design for her work in the Marvel movie Black Panther and is nominated for the same award this year for the sequel, Black Panther Wakanda Forever. She has more than 40 film credits on her résumé and is only the second costume designer to receive a star on the Hollywood Walk of Fame.
"It wasn't fashion that brought me to the desire to be a costume designer. It was actually the   storytelling," Ms. Carter told a crowd of students and their parents during a conversation-style session moderated by from the Toledo Museum of Art. "It was all the plays, all the black peers I learned in school. I really wanted to see those characters come to life. I pursued the career of a storyteller."
That desire led her to work with movie legends such as filmmaker Spike Lee, Hollywood producer/director Steven Spielberg, and comedy and acting icon Eddie Murphy.
Dressed comfortably in fashionable jeans and white tennis shoes, Ms. Carter spoke of a humble upbringing in Massachusetts as one of eight siblings. She copied many of her older brother's drawings as a child, using art supplies he had left around the house. But that's how she learned to draw herself. Then she discovered her mom's old sewing machine and started making clothes.
"But what I was doing and didn't know it was I was learning," she recalled. "I was learning that I loved art. I was learning about it."
When attending the historically black college Hampton University, she told of missing an audition for a stage play and a professor offering her the chance to design the costumes for the production instead. She thought of it at the time as a "consolation prize," not knowing that it would lead to her passion and life's work—and the respect and notoriety that came with it.
"The idea of sacrifice kind of like lives in you. Sometimes it feels bad. Sometimes it feels hard. Sometimes it feels lonely," Ms. Carter explained. "But the joy of learning and knowing that you're actually exploring your passion really does make it all right."
In that instance, a perceived failure was instead opportunity. She became known as the school's costume designer and even did her senior thesis designing costumes for a dance company.
Ms. Carter also recalled interviewing for the costume designer role on Black Panther, comparing the mystery and secrecy at Marvel Studios to the cloak-and-dagger environment of the CIA. She told the crowd she couldn't help but think "Why me?"
Turns out the director had seen her earlier costume design work for the movie Malcolm X. He told her he saw the movie as a child and the movie's costumes "had an impact" on him.
"I thought to myself, when this grown man was a little boy, I auditioned for Black Panther," she excitedly told the crowd. "I say that in reference to how your beginnings shape your future."
Fostoria native Diana Patton, who once ran track for the University of Toledo, warmed up the crowd with an inspiring message focused on learning how to self-regulate, developing a committed mindset to personal growth, and carefully selecting the company one keeps. She called those three key ingredients to becoming successful in life and overcoming obstacles.
"You want to be successful in life? You've got to learn how to control your emotions," she said. "Your power is within you. You have got to learn how to bring it together."
The speaker, author, attorney and social justice advocate related her own experiences, childhood trauma, and self-awareness journey to emphasize her points to the young people in the audience.
Toledo singer/songwriter Thaddeus Washington shared a selection called "Choose Love" off his recently-recorded album.  The hip-hop and jazz-infused song written by the 33-year-old speaks of choices dealt by life's circumstances. He encouraged young people to always choose love in a hate-filled world: to acknowledge each other on the street with a smile, for example.
"As you leave here, whatever you do, as you show up in the world, show up in love and make sure it's real love and it is positive," he implored. "Remember that we all have a choice."
The conference is organized each year by Toledo Excel, a longtime scholarship inventive program housed at UT. Toledo Excel helps underrepresented students to achieve success in college through summer institutes, academic enhancement activities, and guidance through the admissions process.
EDITOR'S NOTE: Unfortunately, by-and-large, the Latino community does not utilize Toledo's Excel program as exemplified by the attendance at last Saturday's excellent event.