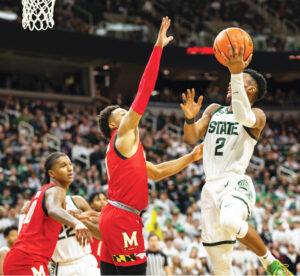 By Larry Arreguin
EAST LANSING, MI, Thursday, February 9, 2023: After losing 2 games on the road, the Spartans were eager to get home and halt the slide. Going into the half, they led the Terrapins 31-22 on solid play from their starters, finishing the game with a dramatic jam by Jaden Akins, Guard (#3) to seal the 63-58 win.
Joey Hauser, Forward (#10) scored a game high 20 points and A.J. Hoggard, Guard (#11) had a game high 10 rebounds. Hoggard also had a game high 8 assists.
On Sunday, MSU Traveled to Columbus to take on the Buckeyes and overpowered the host team, winning 62-41. Hauser led all with 22 points and Akins led everyone in rebounds with 9.
Up next for the Spartans is the Golden Gophers, who travel to MSU on Wednesday (2-15-23).