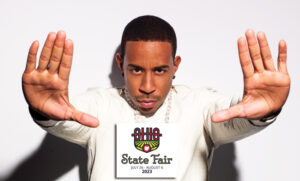 COLUMBUS: Ohio State Fair officials have announced the first cluster of concerts taking place during the 2023 Ohio State Fair Concert & Event Series. The 12-day Ohio State Fair will feature a total of 13 shows, including two free concerts.
The concert and event series will feature a diverse selection of entertainment that appeals to many Ohioans and out-of-state fairgoers, including pop, rock, country, R&B, contemporary Christian, and comedy. Tickets go on sale Friday, Feb. 24 at 10 a.m. Fans who sign up to receive Ohio State Fair enewsletters can get access to the Ohio State Fair presale starting this Wednesday, Feb. 22 at 10 a.m., ending Thursday, Feb. 23 at 11:59 p.m.
Each concert ticket purchased in advance includes admission to the Fair, giving concert goers and Fair fans the opportunity to enjoy the food, rides, entertainment, agriculture, arts, and all other aspects of the Ohio State Fair before attending a show. All concerts take place in the indoor, air-conditioned WCOL Celeste Center. Tickets will be available for purchase at ticketmaster.com/OhioStateFair at the dates listed below.
The first four concerts of 2023 Ohio State Fair Concert Series are as follows:
Ludacris
Tuesday, Aug. 1, 2023, at 7:30 p.m.
$55, $45
Tickets go on sale Friday, Feb. 24 at 10 a.m.
Styx with special guest Foghat
Wednesday, Aug. 2, 2023, 7 p.m.
$50, $40
Tickets go on sale Friday, Feb. 24 at 10 a.m.
Tyler Hubbard with special guest Matt Stell
Thursday, Aug. 3, 2023, 7 p.m.
$50, $40
Tickets go on sale Friday, Feb. 24 at 10 a.m.
KIDZ BOP Never Stop Live Tour
Wednesday, July 26, 2023, at 6:30 p.m.
$25
Tickets go on sale Friday, Feb. 24 at 10 a.m.
Additional concerts will be announced on Tuesday, February 28 and Tuesday, March 7. The KIDZ BOP concert was previously announced on Jan. 20.
Tickets can be purchased online at www.ticketmaster.com/OhioStateFair. Concert tickets purchased before arriving at the Fair include Fair admission.
Unless otherwise noted, there is a limit of eight tickets per person, per show on the first day of sale. Please note that Ticketmaster no longer offers retail outlets or phone centers.
The Ohio Expo Center is proud to host the Ohio State Fair. With big-name entertainment, educational activities, hundreds of exhibits and one of the largest junior livestock shows in the nation, the 2023 Ohio State Fair will run July 26 – Aug. 6. For more information, visit ohiostatefair.com, call 1-888-OHO-EXPO or 1-614-644-FAIR.