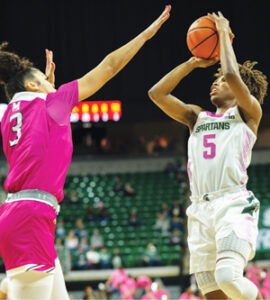 By Larry Arreguin
EAST LANSING, MI, , February 18, 2023: In their first game after the tragic shooting on Campus, the Women's Basketball Team arrived at the Breslin Center with considerable emotion to take on the #8 team in the nation, the Maryland Terrapins. What was supposed to be a day to promote Breast Cancer Awareness, the Spartans instead wiped away tears as they stood in a moment of silence to honor 3 classmates that had been taken earlier in the week.
At the end of the 1st Quarter, MSU led by 5; however, going into the half they trailed Maryland by 1. The visitors' momentum would continue, while the host team struggled to contain Diamond Miller, Guard (#1), who scored a game high 29 points. Not ready to succumb to defeat, and after trailing by 15, they mounted a comeback that got them within 3 (64-61). With :16 seconds remaining, MSU called a time out to set up the final play. DeeDee Hagemann, Guard (#0) would attempt a 3 point basket that bounced off the rim and the Terrapins were on their way home with what would be 66-61 win.
MSU was led in scoring and rebounds by Julia Ayrault, Guard (#40) who had a season high 15 points and pulled down 8 rebounds. The Spartans committed 19 turnovers and struggled at the line going 15-24.
MSU (13-13) will host Minnesota on 2-22-23, then travel to Penn State on 2-25. It is yet to be  determined if/when a makeup with Purdue will occur.