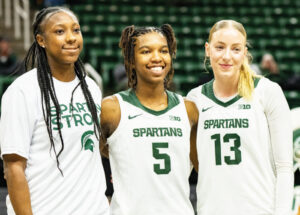 By Larry Arreguin
EAST LANSING, MI, February 22, 2023: The National Weather Service had issued an Ice Storm Warning, moving the Spartans game with the Golden Gophers from 7 pm to 4:30 pm.
Determined to send their Seniors off with a victory, MSU battled the visitors from Minnesota to secure a win and also move 1 game above .500. Playing their last game as a Spartan were Jayla James, Guard (#20), Stephanie Visscher, Guard (#13) and Kamaria McDaniel (#5).
Getting the win was not an easy task as the visitors mounted come back, after come back and tied the game at 53, with 7:18 to go. After a McDaniel layup, the Spartans tightened up on defense and continued to hit the shots when they most needed them, on their way to a 71-67 win.
McDaniel led the Spartans with 15 points and 2 block shots. While Taiyier Parks, Forward (#14) led the team in rebounds with 11, including 8 defensively. DeeDee Hagemann, Guard (#0) contributed 8 assists.
On Saturday (2-25-23) the Spartans traveled to State College, and defeated Penn State 80-65. Up next for MSU, is the BIG Ten Women's Basketball Tournament. The Spartans still remain hopeful, that a strong finish at the Target Center in Minneapolis, will get them to the Big Dance – the NCAA Tournament.