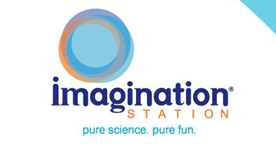 TOLEDO, Ohio – Art is a powerful tool in telling a scientific story. It can help us experience hard-to-imagine parts of the natural world and shed light on new scientific discoveries. Art allows us to imagine and create. It enhances problem-solving skills, inspires innovative thinking and teaches us more about the world around us.
Imagination Station is excited to bring both worlds together for an exciting and unique opportunity for local artists.
The science center's Artists in Residence program is designed to encourage artists to explore the wonders of science, create new work and directly engage with our visitors. Imagination Station will select three artists to:
Create new artwork inspired by STEAM experiences at the science center.
Engage with science center visitors through workshops, demonstrations, and other public programs.
Work directly with our visitors as part of creating new works for display at the science center.
Spend 6-8 days throughout an up to 30-day period at the science center engaging with families. Explaining their process, leading small group activities related to the artwork, producing work, etc.
Each artist will be awarded a stipend of $6,000 for time and materials.
Interested artists should provide the following information in your application via email to: artist@istscience.org.
Your name, address, phone number, and email address
A brief artist statement (150 words or less) explaining how your work relates to science.
A portfolio of recent work (up to 10 jpg images) with descriptions.
A CV or Artist's resume
Background checks will be completed on artists awarded this opportunity.
APPLICATION DEADLINE:  March 5, 2023
Imagination Station's Artists in Residence is supported in part by The Arts Commission and the City of Toledo and Lucas County. Imagination Station is proud to be one of 37 organizations approved in this first round of funding.
Imagination Station provides a critical layer of science enrichment by serving as an educational partner for teachers, schools and parents. It's with a thoughtful blend of exhibits, experiences, education and excitement that Imagination Station inspires visitors to pursue STEAM careers in Northwest Ohio.