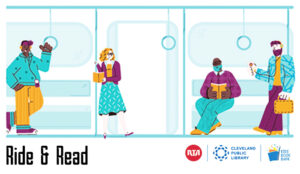 CLEVELAND, OH, MARCH 30, 2023: Next stop Cleveland Reads! Cleveland Public Library, the Greater Cleveland Regional Transit Authority (GCRTA), and the Kids' Book Bank are teaming up for Ride & Read to provide FREE books to commuters.
On Wednesday, April 12, RTA passengers between the hours of 3:00 p.m. and 6:00 p.m. will discover a world of literature on their daily commutes. Staff and volunteers from the Library, GCRTA, and the Kids' Book Bank will distribute free books and encourage riders to join the Cleveland Reads challenge at the following stops: Tower City, Windermere, and West Park. Those who visit Tower City will enjoy live music from talented local artists.
"Cleveland Public Library is overjoyed to have surpassed our one-million-minute Cleveland Reads goal just three months into the year, but we can't stop working just yet," said Felton Thomas, Jr., Executive Director and CEO of Cleveland Public Library. "In order to reach the one-million-book goal, we need to put books directly into the hands of Clevelanders and meet them exactly where they are, even at the bus stop. Transportation should never be a barrier to accessing books."
"Commuting is like reading a book. You never know what adventure you'll encounter during your travels. Ride & Read will provide our passengers a chance to unwind and tune out the hustle and bustle of their daily travel while boosting literacy," adds India Birdsong Terry, General Manager and CEO of Greater Cleveland Regional Transit Authority. "We're eager to get these books into the hands of riders so they can share the story of their own daily adventure with friends and spread the word about Cleveland Reads."
"The Kids' Book Bank is proud to be a Cleveland Reads partner and help put books into the hands of our youngest residents. Kids from all walks of life should have access to fantastic free books and we hope that seeing characters that look like them in those books will spark excitement and joy around reading," remarks Ori Akrish, Kids' Book Bank Executive Director.
"Whether you're a regular rider or just passing through, you're welcome to grab a book and escape into a new adventure," said Thomas.
And if you're feeling particularly adventurous, take the Cleveland READS challenge and join thousands of Clevelanders who are committed to reading more books this year. It's a fun and engaging way to stay motivated and discover new authors, genres, and ideas. Join the challenge and learn more at clevelandreads.com.
SAVE THE DATE: We're almost halfway through the Cleveland Reads challenge, but we've got our sights set on reaching our one million book goal. Super readers can join us at Public Square on Friday, May 12 from 5:00 p.m. – 8:00 p.m. to kick off our summer reading program with graphic novelist and author of the New Kid series, Jerry Craft. You don't have to be a comic book enthusiast to come out and enjoy the food trucks, music, vendors, family fun, and more. See you there!