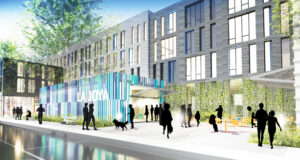 DETROIT, March 31, 2023: The Southwest Detroit Business Association (SDBA) and Cinnaire Solutions held a groundbreaking ceremony with the City of Detroit, Invest Detroit, MSHDA and other partner organizations of La Joya Gardens — a mixed-use, mixed-income residential and commercial building that will be located at 4000 W. Vernor Hwy. in Southwest Detroit. Detroit Mayor Mike Duggan, Councilmember Gabriela Santiago-Romero and key development partners joined the community in celebrating the start of construction.
According to SDBA, the nearly $24 million development will offer 53 residential homes, including 42 affordable and 11 market rate apartments; and more than 6,000 sq. ft. of retail space when completed in 2024. Project is part of Detroit's Strategic Neighborhood Fund
La Joya Gardens is the latest project supported by the Strategic Neighborhood Fund (SNF), a partnership between the City of Detroit, Invest Detroit, neighborhood residents and corporate donors. SNF funds community-driven projects, each of which begins by soliciting input from residents. SNF, with assistance from PNC Bank, funded the community engagement process for the project, and provided $1.6 million in gap funding, which supports the deep affordability of the units.
"In neighborhoods across Detroit, the Strategic Neighborhood Fund is helping us build new affordable housing and bringing new life to our historic commercial corridors like West Vernor," Mayor Duggan said. "For years, this key corner has been an empty lot, but thanks to SDBA, Cinnaire Solutions and the SNF, it will once again be thriving and a beautiful place for Detroiters and small businesses to call home."
"My six policy priorities include housing and equitable development, so I am thrilled to be here today to celebrate the groundbreaking of La Joya Gardens. Projects like these are what transform our neighborhoods," said Council Member Gabriela Santiago-Romero. "When we leverage funding to invest in real estate that becomes an affordable home to residents and provides opportunities for small business owners to realize their dreams of a brick-and-mortar location, we all win."
La Joya, which means "jewel" in Spanish, was a name chosen by residents during the project's extensive community engagement process. In 2018, the development team kicked of the project with a six-month "participatory design" phase in which more than 200 local stakeholders met with the architects in a series of meetings and focus groups. Residents and local businesses voiced their suggestions and voted on the building's design elements, types of businesses, and community services they wanted to see, and participated in a contest to name the new community.
"Today's groundbreaking marks a pivotal moment for La Joya Gardens, an exciting development project that will not only add high-quality, affordable housing and community space for local residents to enjoy, but also prime retail space along one of the city's most vibrant commercial corridors," said Laura Chávez-Wazeerud-Din, SDBA's Vice President of Programs & Compliance. "We are immensely grateful to all of the development partners who helped bring our community's vision to fruition."